Cheesecake Recipes For You

Delicious cheesecake recipes for unusual wedding cakes, bridal shower cakes and pastry tables.
An all time favorite with a buttery graham cracker crust. Topped with bright red cherry topping, it is absolute perfection. This is a classic recipe that is so great to make ahead and freeze.
I like to make 6 inch ones for gift giving at Christmas a larger one for the family get together's. They are not difficult to make, don't require a lot of ingredients and can be baked and frozen ahead of time with great results.
---

A Beautiful Cheesecake Wedding Cake

Colleen Charles created this gorgeous Peacock design. Each tier is a layer of real cake (chocolate buttermilk) and a layer of cheesecake topped with luscious Italian meringue buttercream. The topper is a modeling chocolate peacock, feathers and lace. Check out the cheesecake recipes below and visit Colleen's website.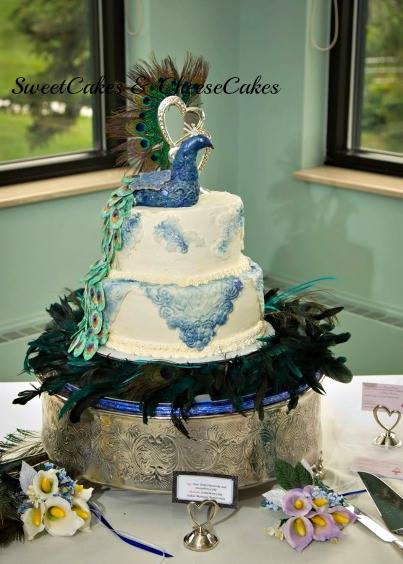 www.sweetcakesandcheesecakes.com


This one is my go to of all the cheesecake recipes and is a classic creamy version made with cream cheese, sour cream, sugar, vanilla, eggs, graham cracker crumbs and butter. Give it a try. It's been on my menu for over 25 years.

---
Are you planning a fall wedding? A Halloween wedding or a banquet table that you would like to really spice up? Then you really should try this pumpkin cheesecake. It's like pumpkin pie, but one step better!

---
Another favorite! Can't beat that flavor combination. So here it is my tried and true!

---

Some Tips and Tidbits
It helps to have a mixer although you can use a whisk and a mixing bowl.
Make sure your cheese is at room temperature before mixing or you can warm it in the oven at 250 for five minutes.
A blender or food processor comes in handy for chopping nuts and graham cracker or cookie crumbs.
A spring form pan is useful  but you can use a regular cake pan if you have to. I talk about how to release them from the pans on this page.
The cheese most commonly used for cheesecakes are cream cheese, neufchatel cheese, cottage cheese, and ricotta.
Sometimes cream is added for lightness and added flavor, such as heavy cream or sour cream.
Cornstarch and sometimes flour is used to help thicken and stabilize the moisture content.

How To Prevent Cracking
The most common problem when baking a cheesecake is cracking on the top.

Cheesecakes give off a lot of moisture when baking. If it gives off too much or too quickly the cake will crack. To prevent this you can place your cake pan in a water bath. If you are using a spring form pan make sure you wrap it well in aluminum foil before putting it into the water bath.

Deep cracks indicate a problem with the structure of your eggs and could mean a soggy cheesecake.Crevices across the center are minor and can be covered with a topping. These can be caused by drafts during the cooling process, so try to keep your cake in the oven as it cools. (turn your oven off with door slightly ajar.)

Another tip to prevent cracking as your cake cools down is to run a spatula around the outer edge of the cake. As the cake cools it shrinks and will pull away from the sides sometimes causing cracks.

Never open the door of the oven as your cheesecake is cooking.

A little about oven temperature
It's difficult to provide temperatures and baking times as every ones oven is slightly different. A general rule with cheesecakes is to bake them at a slightly lower temperature than is called for in the recipe if in doubt about your oven.

---