Chocolate Cheesecake
---
The Recipe
This chocolate cheesecake is made one step better by using Ghirardelli chocolate.

This is a recipe from The Joy of Cheesecake although they do not specify a brand. I specifically use Ghirardelli chocolate when baking but you can use other types if you like a particular one.
Whipped cream and rasp[berries or other fresh fruit makes a gorgeous garnish. 


Enjoy The Video Instructions

Written Instructions

Preheat oven to 275 degrees

Oven temps can vary so you may need to adjust this temperature for your oven.

Filling

5 ounces of Ghirardelli semisweet chocolate
1 1/2 lbs. cream cheese
1/4 cup granulated sugar
3 eggs
2 teaspoon vanilla
1 cup sour cream

Melt the chocolate in a double boiler or carefully in the microwave.

Beat the cream cheese and sugar until smooth

Mix in eggs and vanilla

Stir in the chocolate and the sour cream

Crust

Here is a good one to go with your chocolate cheesecake recipe.

2 cups vanilla cookie crumbs
3 Tablespoons unsweetened cocoa
1 teaspoon instant coffee powder
4 Tablespoons butter

Melt the butter and add it to the crumb mixture. Mix until butter is incorporated. Press into a 9 inch spring form pan covering the bottom and sides.

Chill the crust before filling.

Pour the mixture into your chilled crumb crust.

Bake for 1 hour and 15 minutes. Turn the oven off and let the cake cool down slowly in the oven.

Get Creative
You can experiment with your crust by using different types of crumbs.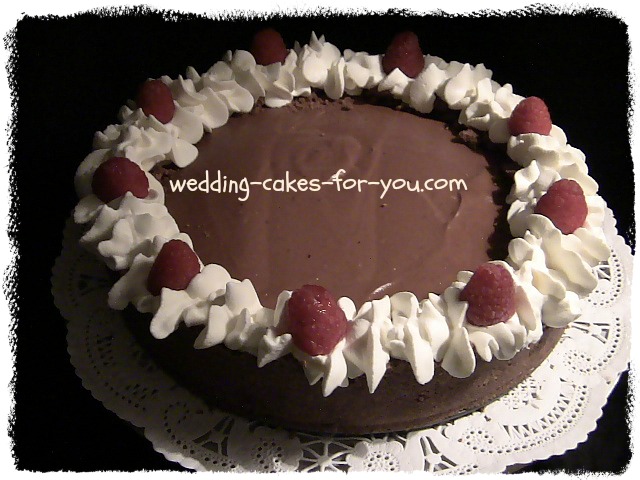 Graham cracker of course
Vanilla wafers
Ginger snaps
Zwieback
Stale cake such as angel food, spice or chocolate

*Tip You can buy pre-made crumbs (graham cracker) or you can make your own using a blender, food processor or put the crackers into a heavy duty plastic bag and use a rolling pin to crush them.


If you don't have a spring form pan you can use a regular 10 inch baking pan. I explain how to do this on here page

Have you considered a Cheesecake Wedding Cake? Check out this homemade wedding cake by one of my readers and her sweet story to go with it.

Cheesecake freezes very well. Make sure you wrap the cake in layers of plastic.