Share this Wedding Cake Site
"Please Share This Wedding Cake Site So Others Can Enjoy My Wedding Cake Tips Too"

~Lorelie Carvey~
If you enjoyed reading Wedding Cakes For You and found my site helpful, please share this wedding cake website with others.  

One of the purposes in building this site is to give people free access to wedding cake tips, recipes, tutorials and resources for brides, bridesmaids and cake decorators. So it would help if you could point others to this site. I would really appreciate it.

"This website is so brilliant and so generous of you!"

 ~Safia~

Code For A Banner Link
With the following HTML codes, there is no need to download the small banner graphics. They are stored on my site and will display on your site exactly as shown below. Share this wedding cake site on your blog or website.

Wedding Cakes For You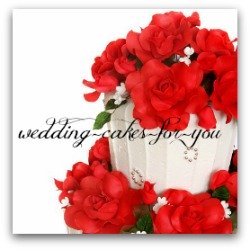 Please email your friends and family and tell them about www.wedding-cakes-for-you.com so they can enjoy the free information too. And, if you have a website or a blog, please add a link to this site on one of your webpages. You can easily refer people to my site by using the simple HTML code supplied below.

Adding a link takes only a minute or so to do, and your visitors will be so grateful. They will return to your site knowing they can always count on you to provide them with helpful information.

Thanks in advance,

Lorelie Carvey

Share This Wedding Cake Site By Adding Links
It's easy. Simply select the link you would like to use, then copy and paste the HTML code in the box anywhere on your website or blog.

All the codes will cause the links to open into a "new" window. So, when your visitor closes the "new" window, the current window (yours) will still be open underneath it. This is the perfect way to share this site and not lose any of your visitors.

Codes For Text Links to the following pages on my site
Wedding Cakes For You Award Winning Pastry Chef Lorelie Carvey shares her secrets to a successful wedding cake creation. Great site for brides to be and cake decorators alike!

Make Your Own Wedding Cake with award winning cake decorator Lorelie Carvey. See how it is done with wedding cake videos and tutorials!

Thank You For Recommending My Site To Others
From Share This Wedding Cake Site To Wedding Cakes For You Home