Cake Decorating Tips
Cake decorating tips and advice.

If you are looking to purchase decorating tips for pastry bags and piping then you will find those on the tools and supplies page.(Link right below for you)
You will find cake decorating techniques and all kinds of helpful ideas on this page from Lorelie and visitors to this website.
---
Sugar Veil and Rice Paper Flowers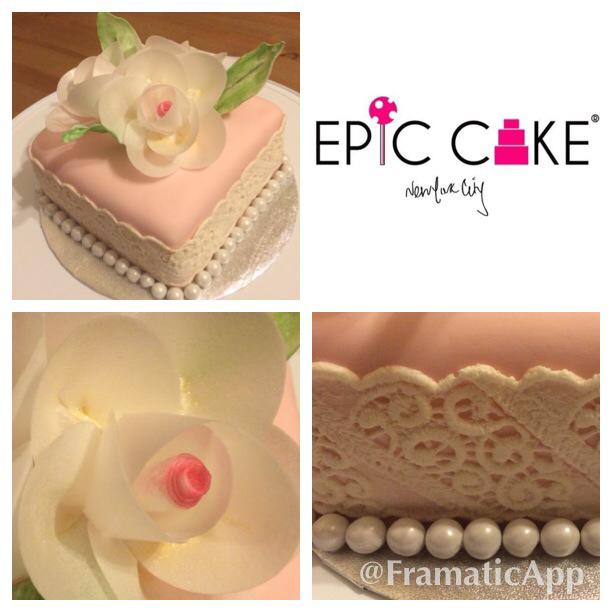 This beauty of a mini cake is by Epic Cake in Long Island New York.
Visit Epic Cake on Facebook


How to use Sugar Veil to make beautiful cake lace

---
Fondant Ruffles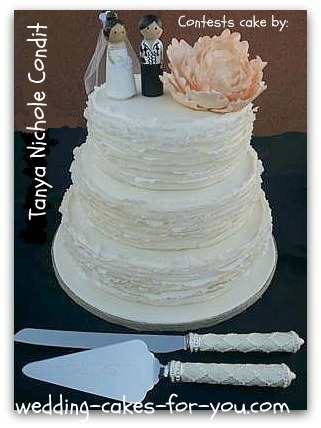 A ruffled cake example from Tanya Nichole Condit
She used a ball tool to get the ruffle effect.
 

Have you wondered how to make ruffles from fondant and glue them onto a cake? Kortney uses vodka as her cake decorating technique for her award winning vintage cake.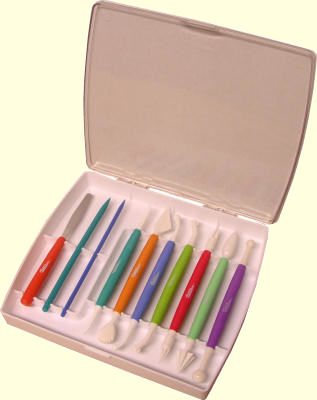 Here is what the kit looks like...It contains the ball tool used for ruffling and thinning out petals for a more realistic look.

---

Her Secret Weapon
By Liz Siers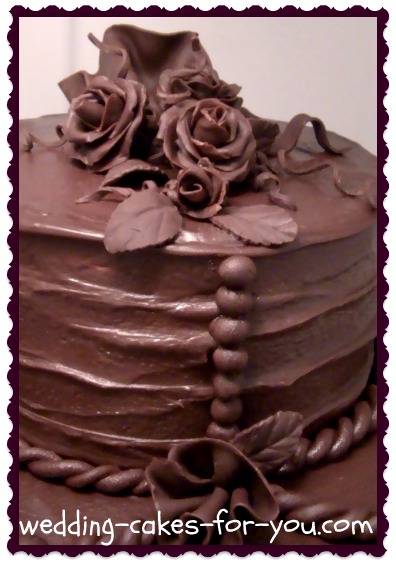 Ganache is her secret weapon!

See Liz Siers recipe and how she uses it as a crumb coating and a special treat "The best hot chocolate" with leftovers.

---
Black Fondant Ribbon-Cake Decorating Tips
Shared by Patricia Dalton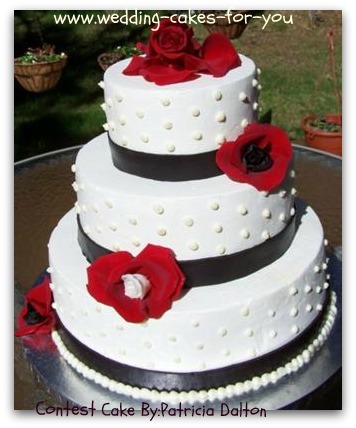 Great tips on making and using fondant ribbon from Patricia, who actually came to this website to get advice. Read her very informative post and see her gorgeous wedding cake with fresh flowers and Swiss buttercream dots. 
---
Loads of Tips
Laura Maxey Shares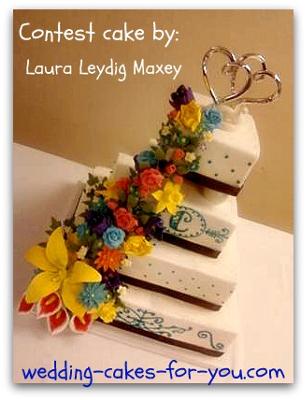 A few really helpful cake decorating tips about using gumpaste, planning ahead for cake disasters and a tip on how to make string-work piping evenly spaced, plus a recipe for her cream cheese filling.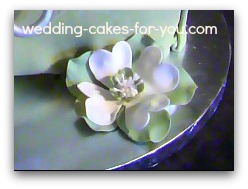 Great tips on drying gumpaste decorations in a humid environment from a few of my tropical visitors.

U
se a Strong Base
From Rebekah Sanchez
Always use a very strong solid base support for wedding cakes or your cake may lean as Rebekah found out. She used a plastic separator plate that could not withstand the weight of the tiers.  A wooden board or Masonite is a perfect choice. She writes about it in her Leaning Blue Velvet cake.

---
Tips For Building A Sand Castle Cake
Shared by Deanne Wiens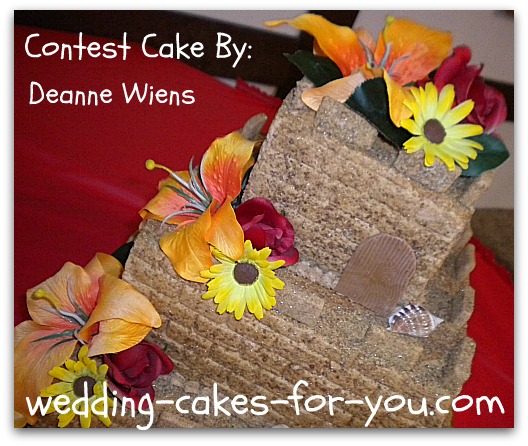 Deanne is a great storyteller and she adds some really creative ideas on ways to create realistic looking sand using cheerios, forming bricks with a small tin that she found in a junk drawer and more...

A Simple and Delicious Raspberry Filling
Recipe
By Julie Mikula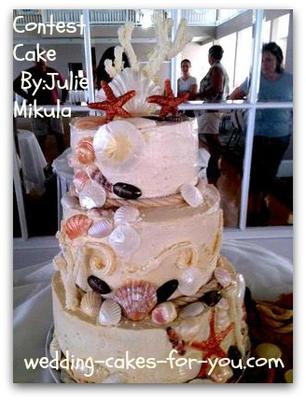 Julie Mikula offers up her raspberry filling that she used to make her seashell cake along with her version of sand and making rope for the borders.

---
How to Make a gumpaste Hibiscus
From Laura Leydig Maxey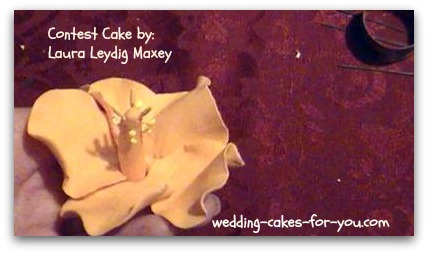 Laura gives instructions for making a Hibiscus from gumpaste. her cake is loaded with gorgeous flowers and there are other great tips on her page as well. Click the picture...

---
Buttercream Cake Decorating Tips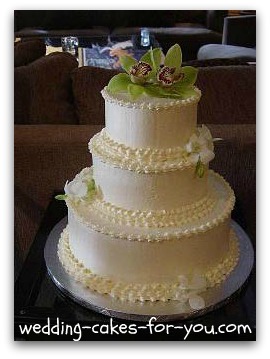 "To cut the sweetness of buttercream use a dash of popcorn salt"
~Gale Smith~
Here's a trick I use ALL the time...

Heat up one of those neckwraps full of rice or wheat or whatever in the microwave, and wrap it in a clean dishtowel. Wrap your large angled spreader in the hot neckwrap to really heat it up, then GENTLY use the hot spreader to glide it over the COLD HARD buttercream to get a really flat flawless finish. Rinse and dry it between swipes as it cools off, and reheat it as necessary.

Often this trick gives you buttercream so smooth you don't even need to use fondant if it's just for looks anyway!

~Anonymous Visitor~

---
Use Cake Stackers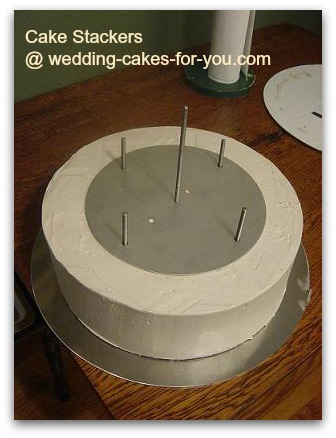 Several visitors here have used and highly recommend Cake Stackers. Here are a few of the cakes that were submitted and the decorators experience with using them.
Athalia Lyons Topsy Turvy design
Angel Rushing used them for her very elegant and award winning design- which she titled -Worth The Wait Wedding Cake
My Review of the Stackers System
---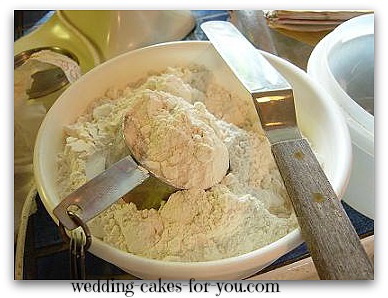 For best baking tips go here.

---
This article was printed from Wedding-Cakes-For-You.com