Custom Search
Gumpaste flowers in fridge
Gumpaste flowers in fridge
Hi, Your website is so helpful! Thank you! I'm making a fondant covered cake with gumpaste flowers and the customer will be picking up on Friday for Saturday.


I've read so much about putting gumpaste flowers in fridge yes/no I even tested it and it seemed fine, What's your opinion and experience with this? Thanks
Hi, I'm glad the website has been helpful to you. Gumpaste and fondant don't do so well in a refrigerator. They will eventually break down due to the moisture. Fondant flowers tend to deteriorate faster in that environment.

My recommendation is to make your gumpaste flowers and store them in an airtight container, in a cool dry place. Wrap them in bubble wrap or paper towel first. They will keep for months. If possible decorate with your flowers the day of the pick up and leave the cake out of the refrigerator.

Because your cake is covered in fondant it is best to either not refrigerate it after the fondant is one, or box and wrap it very well to keep it airtight.

Same applies for the flowers, if you do want to place them on the night before, box the cake and then wrap your box in plastic to keep the air out.

Related posts
Fondant cakes and humidity

Baking and decorating in high humidity

I hope that helps with your gumpaste flowers in the fridge question.
Related Comments
Drying up fondant and gumpaste flowers in Philippines
Hi! I was having a hard time drying up fondant flowers in the Philippines. Any suggestion/tips on how to dry fondant flowers in a Philippines? Thanks!
Tips From Facebook friends at Wedding Cakes For You - here are some suggestions for you.
Lara Salvati Kendall says-use a dehumidifier. Get a large box, stack your flowers on little shelves in the box and put the dehumidifier face into the box.
Sarah Scott says-I know I have friends in Hawaii that put they're flowers in a large like rubbermaid tote with a tub of Damp Rid in the tote, and keep them in the tote until they are assembling the cake. It seems to work pretty well there. You just have to be careful to not get the DampRid on the flowers themselves.
Rose Rosales says-lots of tylose :)
Hope that helps :-) I just learned a whole lot from this post myself. So thanks Ladies!
Click here to read or post comments
Gum paste flowers on chocolate?
by Crystal Rollins
(Sunrise, FL, US)
I'm making homemade wedding favors for my friends wedding, I have purchased a 3 tier mini wedding cake mold that's about 3"x3" I plan to use the mold with chocolate. My question is if I have a solid piece of chocolate can I adhere gum paste flowers to the chocolate? And if so what is the best adhesive? Your expertise is appreciated. Thanks for your time!

Hi Crystal,

My initial thought was to use royal icing, but after thinking about it a little more the best adhesive would be chocolate itself.

After your gumpaste flowers are dry and ready to be glued, melt some chocolate and use a dab of it to adhere the flowers. Place the homemade wedding favors on a tray or plate and put them in the fridge for a few minutes. Or you can put the tray in a cool spot until the chocolate sets. That should do the trick.
Here is a great page at Candyland Crafts with tips on how to work with chocolate molds.

And there is a variety of chocolate molds including a three tiered wedding cake one.


Please update us on your chocolate creations and let us know how it goes using the melted chocolate to attach the gumpaste flowers and send a photo of them. You can send it via email at cpastrychef@gmail.com or upload it in an invitation form like you did for this question. I can then add it to your post or even create a whole new page about them. Thanks for visiting and asking a great question.

Back to Top


Fondant recipe
by Ilona
(Pennsylvania)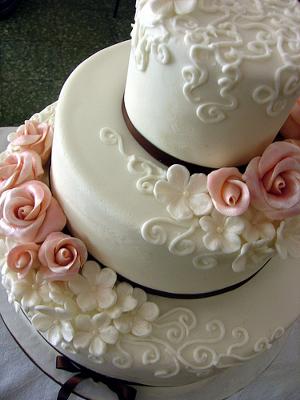 Do you have a simple fondant recipe? I want to make a cake similar to the one in this picture
http://108weddingcakehaleluya.files.wordpress.com/2011/05/wedding-cake-recipes.jpg

My question is what can be used to make the roses?

What is a simple fondant recipe?

Can fondant be put put onto the cake the day of the reception and refrigerated?

What is used to hold each of the layers up?

Hi Llona,
The simplest fondant recipe that I know of is the marshmallow fondant You can make the roses out of the fondant or out of gum paste which can be rolled out quite thin and dries harder.

Once your fondant goes onto the cake, do not refrigerate it. The fondant will get shiny and somewhat gooey. You can use several methods of stacking the cakes. Wooden dowels within the tiers act as support for the tiers above. Straws can be used in place of the dowels if the cake is not too big. I recently started using the Cake Stackers system. Here is a link to the page all about the Cake Stackers These work really well and take the worry out of delivering and supporting your tiered cakes.


Comments

Thank you Lorelie,

Could I use fondant instead of gumpaste for the flowers?

Yes you can use fondant for your flowers.

What do bakers do for cakes/fondant that require refrigeration and cannot sit out? My cake will be refrigerated and served in the late afternoon. I cannot apply the fondant at the last minute since I am hosting a reception. How can I have the fondant on my refrigerated cake and still be sure it comes out perfect?

I recently saw some commentary in my Linked In group and they were talking about this issue. You can box your cake up and then wrap the box in cellophane before refrigerating the cake. That should protect your cake according to some of the commentary. The bakery I used to work in also did this with fondant cakes. the worst thing that could happen is the fondant will have a shine to it instead of a matte finish. As long as it is all white that should not be a problem. If there are colored fondant decorations on the cake it may cause the colors to run.

I am trying to find a mold for those white flowers, do you know the type of flowers, or where could I get it. (Do you know if it is called a 5 petal flower, 2 inch? I found a cutter similar to that, but I haven't seen a mold).

I used to use the older version of "Wilton's How to make Beautiful Gum Paste Flowers set" The newer one is more complete does have that cutter and directions.
Thanks,
Ilona