Save Time While Cake Decorating
Q: How do I save time while cake decorating? What can I make ahead?
A: You can make everything ahead of time. Let's face it baking a cake and decorating can be VERY time-consuming.
Here are some tips and things that I do to make my cake life a little easier.
Space your tasks out.
Bake ahead of time and freeze. It's ok to freeze a cake. It actually locks in the moisture. (Wrap well). Even though you can store frozen cake for months, I recommend baking at the beginning of the week or a few days ahead.
Make your filling ahead if possible and store well covered. Make your buttercream ahead. Take it out and let it come to room temperature the day that you plan on frosting.
You can even make buttercream flowers ahead and freeze them. Royal icing flowers need to be made ahead and dried. The same goes for gumpaste flowers and decorations.
Have your cake boards ready and waiting. Now when decorating day arrives you will be free and fresh to create the most beautiful cake possible.
My book Wedding Cakes with Lorelie Step by Step breaks this all down for you. Here is the link to learn about my book on Amazon. wedding cakes with lorelie paperback on Amazon
NEW Recipes :-)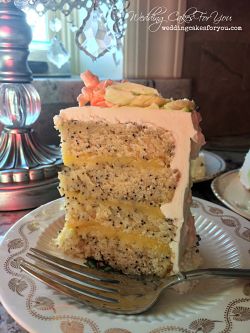 In my early days of baking I made this incredible luscious Ukranian Poppyseed bundt cake. It was so unique and quite delicious. I felt it was time to relive that experience, but this time as a layered cake.

This would make a very special wedding cake, or mother's day cake. The addition of my Lemon filling recipe takes it to a whole new level. Italian meringue buttercream gives this a perfect finish. Lemon Poppyseed-Cake-Recipe
Marble Cake Comeback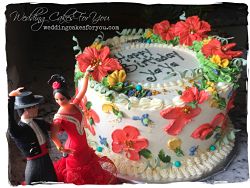 Rich chocolate swirled together with vanilla. The best of both worlds. Top that off with pillows of whipped cream and sliced Peaches? Sure why not. Sometimes my customers comes up with the best flavor combo's.
Also in the video are details on preparing your pans. How to swirl and not end up muddy looking. Tips on baking. And a peek at the colorful end result. Marble Cake on YouTube
Wedding Cakes with Lorelie Step by Step. It's a recipe book as well as a how-to book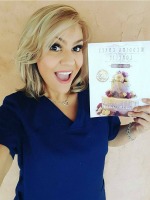 Learn about my book. It's available in three formats. Paperback, eBook and Kindle. There are many BENEFITS to becoming a customer. You can read about them and see many testimonials at the website at this link. Books
Socialize With Wedding Cakes For You
PLEASE Help me to spread the word about Wedding Cakes For You so that others who have a true passion for baking and decorating can be a part of it! Take a moment and forward this to a friend.

If a friend did forward this to you and if you like what you read, please subscribe by visiting the website and subcribing Wedding Cakes For You

Join Wedding Cakes For You on Facebook Spread the LOVE and Click the LIKE button.

Subscribe to Wedding Cakes For You -YouTube
Thank You For Subscribing, Sharing and Spreading The Love.
HAPPY BAKING AND CAKE DECORATING!!!!