Christmas Cake Decorating Ideas


Gorgeous Christmas cake decorating and baking ideas. Make buttercream pine cones, holly berries or meringue mushrooms for decorating your holiday cakes.

Step-by-step cake decorating and baking videos for you and links to other fantastic pages with basic and advanced fondant flowers and more.
NEW!!! Christmas Cake Decorating Ideas

Say Hello to the Baby Buche, Delicious Buttercream Pinecone Cupcakes ! Au Natural Frosted Fruit, Almond Mini Cakes, Royal Icing Snowflakes and More...

Baby Buche De Noel
This little cutie garnered a lot of attention. When the clients first saw them they said "These are the cutest things we have ever seen" They really are adorable, but beware if you have to make loads of them. They are time consuming. If you have friends who like to bake along with you it would be a very fun project. Otherwise as long as you are not in a rush, they can be fun and are so worth all of the compliments you will receive. :-) Link to the tutorial.

---

How to Make a Pine Cone With Frosting

If you have made buttercream roses than you will be able to make the pinecones easily. If not then follow the instructions and pictures or see  the video for making a rose. It is on the techniques page)
This decoration is a great Christmas cake decorating idea and very beautiful on a Christmas wedding cake or a Yule log.
Video

Written Instructions with Photos

You will need:
A batch of buttercream on the firm side.

Colored icing (I used green for the demo because that is what I had on hand) Use brown a light blue or even white is pretty for pine cones on cakes.
A pastry bag and coupler with a rose tip.

A drinking straw or...
A cone shaped piece of marzipan, fondant or gumpaste mounted on a small dowel or toothpick.
NOTE: If you are not sure what these tools are or where to get them go to my tools and supplies page. You will find pictures and explanations with a link to Candyland Crafts where you can purchase them online.

Directions for making the pine cones with a straw...

Using the straw like a rose nail, pipe a ribbon of frosting around the tip of the straw, just as you would for a rose.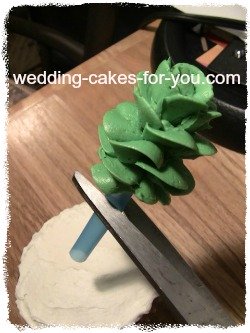 Now working from left to right pipe petals from the base of the frosted tip. To pipe the correct shape you will need to hold the tip sideways and pipe straight up and slightly out (depending on how open you want the pine cone to be). Complete one row and then pipe a row under that first row. Continue adding petals until your pine cone is the size you like.
Next step is to snip the straw and place the pine cone in position. Use your scissors to hold it and push the pine cone into the cake at an angle.

---

How to Make Pinecone Cakes-Video

Here is a video that I put together for you so you can see exactly how to make these lovely pine cone mini cakes. The ones in the video are almond orange with ganache and slivered almonds. You can use one of your favorite cake recipes or one of the many delicious ones on this website.

More Christmas Cake Decorating Ideas and Videos 


How To Make Royal Icing Snowflakes


I used these pretty snowflakes for the Igloo and Penguin cake in the video below and for many other cakes over the years.  You can see another example of these on a Snowflake Wedding Cake


Make Royal Icing


This icing hardens quickly allowing you to pipe shapes onto waxed or parchment paper. Dry your shapes then peel them off to make 3 dimensional decorations. It has other uses too, such as decorating gingerbread houses and Christmas cookies. Link to the royal icing video and recipe page.


An Igloo and Penguin Cake


This cake was in a Martha Stewart magazine. I tweaked it a little bit for a my grandsons first birthday cake, but it could be used as a centerpiece for a baby or wedding shower, Christmas party, or even a wedding cake. The penguins could be transformed into a bride and groom instead of a penguin family as I did in the video.

---

Even More Christmas Cake Decorating Ideas

Favorite Christmas cake decorating ideas that I use every year include all of the above plus gingerbread cookies and houses, meringue mushrooms. Another simple yet gorgeous decoration is the frosted fruit. They make for beautiful Christmas Cake decorating ideas on a holiday cake. 
Frosting Fruit Video

Le Cordon Bleu is where this SUPER easy technique came from. It is a life saver when looking for new ideas and cake decorating techniques,
Champagne Roasted Spiced Pecans Recipe
For years I have been giving these golden nuggets as Christmas gifts to family and friends. Use them in cakes, on cakes, as a snack, over ice cream, in cereal...well you get the idea :-)


Cake Decorating Ideas and Pictures

From Visitors

Topsy Turvy

Sometimes visitors will add cake ideas to the website, like the one below.  I just love this Topsy Turvy Christmas/ Birthday Creation. Read below what the "anonymous' creator of this fun cake wrote about it.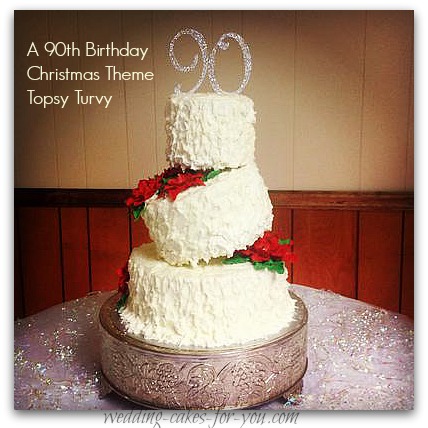 "This is a 3 tiered white vanilla bean cake with Buttercream and sugar sparkles to resemble snow.  This is my first Topsy Turvy cake using my new Cake Stackers System. I love it. It is a 12" round, 9" round and a 6" round. I made delicious, edible red Poinsettias with green leaves to place on top and in between the cake tiers. Very pleased with the results. The 90 year old gentleman I made it for "loved it" and looked as if he would cry when he first saw it..."
~Anonymous Visitor~


Fondant Flowers and Pine Needles From Australia

The "I'll Be Home For Christmas" cake in this photograph below was created by a very talented visitor from Australia. Click on the cake to read her story and to get tips on how she made this beautiful Christmas cake using fondant and her own patterns.

A Christmas Cake From Sunny California Loaded with Love and Fondant Figurines

Maria won one of the many contests here for the MOST INSPIRING story and design! You will see why when you read her story. She also included an entertaining video of her amazing Christmas theme cake with tips. Click the Picture

Christmas Cakes In The UK

It's only September but Sarah Ann is already busy filling orders for the holidays. She shared this beautiful design on FB recently. Thank you Sarah Ann. Visit her Facebook Page.

Would You Like To See More Christmas Cake Decorating Ideas?

Christmas Wedding Cakes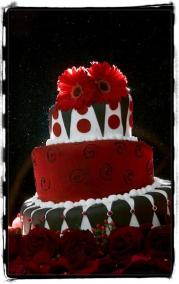 Pine Cone Cakes