A Wedding Cake and a Website Changed My Life


My cake journey began when a friend asked if I would fly 3,000 miles to bake her wedding cake. 


I signed up for a local cake decorating class to learn the basics and got to work practicing and constructing a mock up. It was a cupid design straight out of the Wilton Cake Decorating Yearbook. Talk about being nervous. I accidentally sat on a tray of the blue buttercream roses the morning of the big day.
WOW! Lessons learned. #1 Always make back up decorations and #2 Buttercream roses do not need to be made ahead and frozen.... That was only two of the many lessons I learned the hard way. 
First Wedding Cake

This innocent little confection started me down a wonderful new path, that included meeting my husband Scott, moving from the east coast to the west coast, and ultimately (28 years later) building this online business.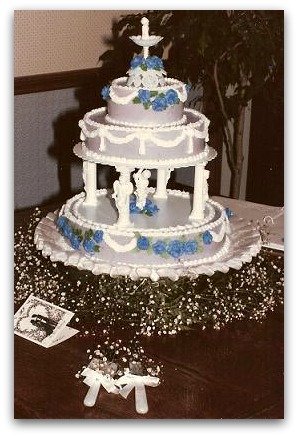 My First Wedding Cake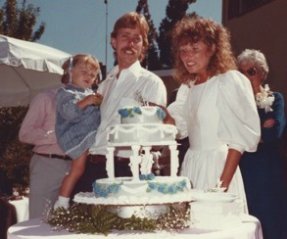 Jane & John and Little Katy
"Lorelie! I am so proud of you! I can't believe our wedding cake changed your life! It truly was a beautiful and delicious cake. We just celebrated our 25th wedding anniversary. Hard to believe you made this cake 25 years ago. Love your web-site!" ~Jane~
First Bakery Job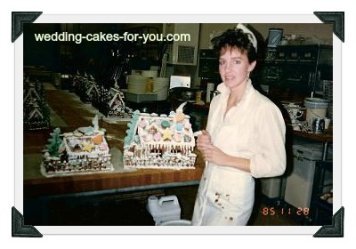 Once we were settled in California, I started working at a French bakery learning valuable new skills and techniques as an assistant cake decorator. This eventually led to opening my own home based business called, "I Do Cakes" a clever name that my sister-in-law thought of.

I will never forget how exciting it was to receive that first cake order as an independent home based baker and the very first wedding cake I made as a professional. Baking and delivering one cake at a time with my old station wagon was Scary!!! (but look I'm smiling)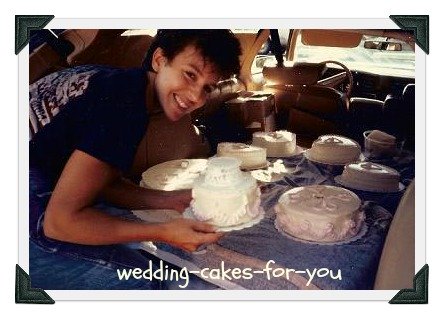 Three years after moving to California and one son later we moved back to Connecticut where "Lorelie's Luscious Cakes" was born. (pictured below) From this humble kitchen came hundreds of cakes and desserts for various events and celebrations.

Working in many professional kitchens has been a wonderful experience, especially the years at the Inn (pictured to the right)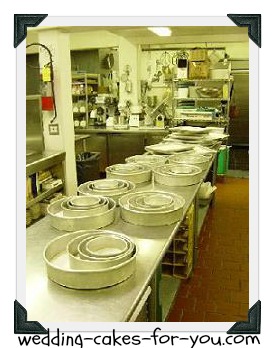 This was probably the most exciting and challenging of all as there were three banquet halls and all of the cakes and desserts came from this central location. 
Although I loved the Inn eventually it was time to find another way to create a business around my passion for baking and decorating.
For me building this website was the solution. Now I can continue to bake and decorate on a small scale and make a living online while lending a helping hand.   
Why Am I Sharing My Trade Secrets?

In 2004 I was very excited when the Connecticut Chef's Association gave the "Blue Ribbon" and the "Directors Choice" Award to my fondant design. (pictured below)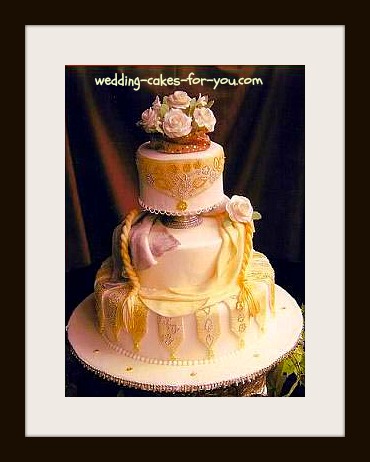 What a feeling of accomplishment that was. Now I want to encourage you to feel confident and follow your passion, whether it be to simply bake one special cake, enter a competition or start a business. You can do this too. 


Wedding Cakes With Lorelie Step-by-Step
My ebooks are designed to help people who are just starting on their cake journey. Take a peek to see how they have helped so many cake decorators, hobbyists and professionals.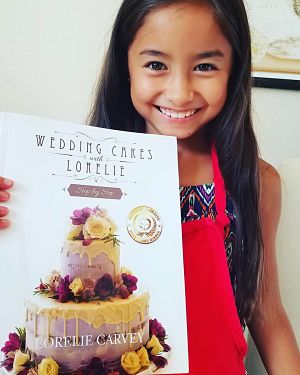 Step by Step
Order a Wedding Cake
If you don't have the time or the inclination to make your own cake and you're in the New York, Connecticut, Massachusetts area, consider an exclusive one of a kind creation by Wedding Cakes For You. See the Gallery  See pricing and the mouthwatering choice of flavors.
Get to know me and my brides in this film by  Joaquin Maceo Rosa