Wedding Cake Prices Guide 
And How To Cut A Wedding Cake

Affordable wedding cake prices depend on a few factors. Keep in mind that your wedding cake will leave an impression on your guests. It's the final thing that they will see and eat at your wedding, so try not to skimp on it. Having said that, there are still ways to save money when deciding upon your very special first dessert together as a couple.

First Your Guide to Cutting A Wedding Cake


You will want to slice and serve your very first piece together. Here are my steps and tips on how to cut a wedding cake.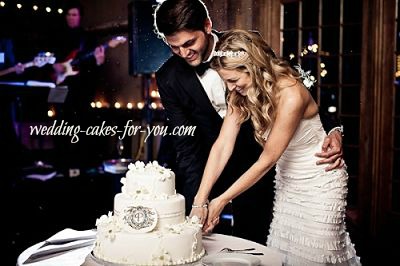 A breathtaking fondant cake for my bride Adrienne and groom Sean - Photo by JAG Studios
Wedding cake slices are smaller than birthday cake slices. They are approximately 1" x 2" by 2 layers high. (about 4") Watch the Video

Tip #1 - The bride and groom usually cut their pieces from the bottom tier and save the top tier for the first year anniversary.
Tip #2 - Have some hot water and a damp cloth handy to clean and wipe off any cake or frosting that may cling to the knife between each cutting.
Tip #3 - Take the cake out of view after the bride and groom share their slice to cut the remaining cake. 
Step one - when cutting a wedding cake is to remove the top tier. This one is saved for the bride and groom's first anniversary.
Step two - is to cut from top to bottom. Start by cutting the next tier below the top one. Cut a smaller circle within that tier and then cut slices around that circle. When you get to the core circle you can cut it in 4ths, 6ths, and 8ths depending on the size. (In the video below I show you an alternate way to do this)
Step three - Repeat for the bottom tier. You will be able to cut several circles within the larger cakes.

Wedding Cakes For You Prices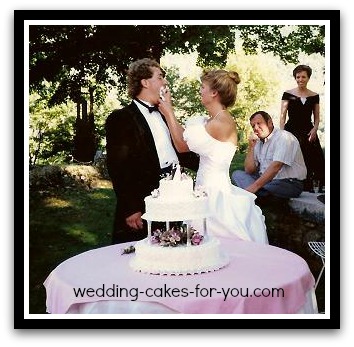 Vintage 1980's Bride and Groom
At Wedding Cakes For You  each design is priced individually. 
See Testimonials from my brides.
Cake Decorators if you have business questions or are looking for answers on how to price cakes go to my cake decorating Q&A


Wedding Cake Prices To Fit Your Budget


Here is a guide to help you with some of your decision making.

Check with your banquet hall to see if the the cake is included. If so ask to meet with the pastry chef to taste samples and see his or her design ideas. If it is all inclusive but you decide to buy one outside the facility then here is some advice...

Wedding Cake Prices vary considerably depending on where you live, wedding cake designs and  type of decoration, wedding cake flavor choice and who you hire. The prices can range from $2.50 per slice to $10.00 or more.

You will lower the price if you order one with...

with simple decoration.
stacked versus pillared.
less expensive ingredients.
pick up the cake yourself, or have a friend pick it up for you.
supply your own fresh picked flowers from your garden or a friends garden.
Go to frugal living now for more frugal wedding ideas.

 Your cost will be higher if you order...
rolled fondant
fancy embellishments such as sugar paste flowers or complex designs.
fruit fillings.
chocolate fillings.
wedding cakes with fountains or stairs.
expensive flowers.


Wedding Cake Flavors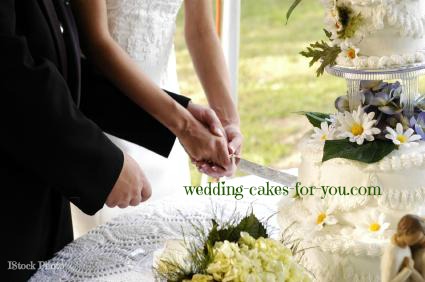 Click the pic to see what Wedding Cakes For You offers flavor wise. The most popular and my favorites are listed on the menu, But if you have a favorite that you would like to see on the menu don't hesitate to ask.
Video of How to Slice Your Wedding Cake
Thank you for visiting my web site and checking out the wedding cake prices guide....

Contact me here.

This article was printed from Wedding-Cakes-For-You.com