Custom Search
Wedding CakeTipsYou Can Use
Join for updates and to stay on top of the latest information about wedding cake construction and design. New stuff is added weekly with... Q&A, recipes and decorating tips.
To Subscribe:Click on the orange RSS button at the bottom of the navigation bar. Thanks :-)
Nov 04, 2018
Lorelie's Cake Crew Come Aboard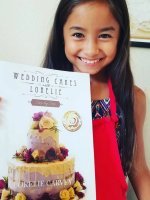 Come aboard Lorelie's Cake Crew on Facebook. The place for fun and learning about making and decorating cakes.