Best Wedding Cake Recipes

And For All Occasions
You have stumbled upon the very best and most reliable tried and true scratch cake recipes not only for wedding cakes but  birthday celebrations, holidays and more. Try the wonderfully buttery white wedding cake recipes or a chocolate buttermilk confection from heaven. Also featuring the best coconut cake that you will ever taste...

---
Descriptions of all the cake recipes
The best moist BANANA CAKE recipes including a tropical version with pineapple and my favorite, the super simple butter cake with whipped cream and sliced bananas.

The very  best recipe for CARROT CAKE. Even people who think they do not like carrot cake rave about this one. It's amazing how incredibly yummy and delicious this recipe is.
Among the best wedding cake recipes are my favorite CHEESECAKES. These are great for pastry tables as an extra dessert or for any occasion. Creamy New York Style with a graham cracker crumb crust, a sinfully rich chocolate one with a chocolaty crunchy crust and Juniors recipe.

Yes many brides and grooms are choosing CHOCOLATE for their special day. The guests love it! A seriously awesome chocolate buttermilk recipe (simply the best and the easiest) Also included is a triple chocolate combination a chocolate stout and a dreamy chocolate orange combo. ENJOY!

COCONUT CAKE is a taste of heaven. Combine it with pineapple or lemon filling and lots of coconut cream cheese icing for an incredible experience that you will not forget. This is a great addition to the wedding cake recipes. 

A new favorite is the CONFETTI CAKE. Loaded with crunchy colorful sprinkles it's perfect for any celebration. This cake goes well with just about any delicious filling. 
An English favorite! The rich FRUIT CAKE is a hardy one made with oodles of fruits and nuts along with a good soaking of Rum, Brandy or Orange juice if you prefer. The bejeweled tortes are then left to age and await their final coat of Royal Icing and Marzipan.  Sweet!!! Basic fruitcakes were once the traditional brides cake in Roman times. It was crumbled over the brides head to bless her with abundance. This tradition was known as "crowning the bride".

HAZELNUT CAKE especially this chocolate version is especially wonderful for a wedding cake. I made this for a girlfriends wedding in 1986. Since then I have recreated it a few times and it's just as I remembered. Delectable. 
Luscious LEMON CAKE with English lemon curd filling and a tangy lemon buttercream. If you like citrus you will want to try this combination. There is a sunny yellow ombre cake design pictured there for you too.
MADEIRA CAKE is an English recipe that is very much like a pound cake, but it does not have Madeira wine in it. It was originally meant to be enjoyed with a glass of Madeira wine. It is especially good for shaping and cutting and to use with heavy icings and fondant.

Not exactly a cake these MEXICAN WEDDING CAKES are a favorite for a pastry, dessert or banquet table. Some call them sandy tarts but they are also known as Russian tea cakes and make nice party favors. If you are planning on offering additional desserts to your guests then you should try these little confectionery gems.

My BEST ORANGE CAKE recipe is quite often ordered by the bride and groom after a taste test. Combined with fresh or individually frozen fruit and white chocolate filling, it is amazing and so moist and delicious!

This nutty and butter infused PECAN CAKE is amazing. If you like nuts this one is for you. Makes a great cake for any occasion.

The CHOCOLATE BOURBON cake is a wow!!! It's dense, moist and perfect coated with chocolate ganache.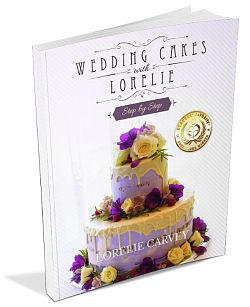 Click the book to read more
Build your skills and confidence with the steps and recipes in my book. Imagine creating beautiful tiered cakes and cherished memories for family, friends and clients? I've compiled my best recipes into one book for you. These are the exact recipes I use to WOW!!! my cake clients every time.

A homemade RED VELVET CAKE recipe for you from one of my readers. Not quite chocolate nor vanilla, but somewhere in between. It is interesting to cut into with its bright red color and contrasting creamy frosting. Your guests or your bride and groom clients will not be disappointed. The filling and frosting that Robin shares is also unbelievably good. Check it out. NOTE: Recipe by Robin Covey

If you are looking for a pure SNOW WHITE CAKE than this is your recipe. The perks of using this is the ease of which it is prepared. Simple and delicious and can be combined with almost any filling and frosting recipe here on the website. 

Loaded with spices the SPICE CAKE is super moist and goes great with cream cheese frosting. Great for a fall wedding or dessert.
The symbol of purity and the most traditional, the majority of wedding creations still tend to be WHITE CAKES and the grooms cakes chocolate. The best collection of wedding cake recipes starts with a classic white cake recipe. This one is made using whipped egg whites for a lighter batter. NOTE This is not a pure white cake. 

The flavor of the YELLOW CAKE is a rich and it is a little bit easier to make than white because you don't have to fold the delicate egg whites carefully into the batter. This one is not as light as the white one but easier to prepare.
---
Gluten Free Cake Recipes Collection
Gluten free cake expert Michele Owen shared her version of my coconut carrot and chocolate cake recipes with us. I have made the chocolate and it is absolutely yummy. Read what Tammy says about the coconut.
"The cake was delicious!  I'm making the gluten free coconut wedding cake for a nephew with celiac's, the sheet cakes for the guests will be the regular coconut cake, his fiancé & family tried both & loved them!"

~Tammy of Sweet Celebrations~
The APPLE CAKE is to die for. The recipe includes a caramel sauce that brings this dessert up quite a few notches. 
PUMPKIN SPONGE ROLL is delightful for a fall dessert. Fill it with whipped cream or cream cheese filling and tip it with ganache. 
Best Wedding Cake Recipes Testimonials
"I used your recipes for the bridal cake I made for my niece (My first). The bottom layer was butter cake with raspberry filling, middle was carrot cake with cream cheese, and the top was your chocolate cake recipe with the raspberry filling. All of your tips on the site were awesome too! That butter cake was the best ever...all of them were!

Thank you for generously sharing your best wedding cake recipes with everybody! I will never forget your site, and I have told many people."

~Dianne~

"I am so happy to have found your website. I used to live in Danbury and you used to make the most delicious birthday cakes for my daughters birthday celebrations over 15 years ago!!!

I have never forgotten those cakes. It was a orange cake with a white chocolate buttercream frosting and fresh whole raspberries in the filling, very dense, moist DELICIOUS cake. Best we have ever had!!!!

~Robin Garavel~
---
This article was printed from Wedding-Cakes-For-You.com