Yellow Cake Recipe 
An easy moist and delicious yellow cake recipe from scratch.
This may be a basic yellow cake recipe, but layered with a light and fluffy meringue like the Lady Baltimore frosting, the basic becomes a mosaic in your mouth. It is a great homemade birthday cake as well as a wedding cake that anyone can make. Even the kids could make this one. After taste testing this I am happy to say that it is a winner and I am a fan.
Rich and Delicious!
This slice of heaven is iced and filled with meringue which consists of egg whites, sugar and a touch of salt, vanilla or almond and corn syrup. The pictured slice is lightly decorated with silver dragees and confetti.

A Yellow Cake Recipe Video 


I talk you through the recipe in the video. Below is the recipe in text for you.
Bake your layers for 27-35 minutes or until they are golden and firm enough to the touch. You can also test for doneness by sticking a toothpick into the center and if it comes out clean it is done. 
The recipe calls for the usual temperature of 350 but I use a lower temperature in my oven. I find that 350 is too high and my cakes burn around the edges and do not bake enough in the center. If this happens to you try lowering the temperature. Mine is set at 335 for most of my baking. You will have to experiment with your own oven. This cake yields 12 servings.
Makes two 8 or 9 inch round cakes

Ingredients
2 1/2 cups all-purpose flour
3 teaspoons baking powder
1/4 teaspoon salt
3/4 cup unsalted butter (1 1/2  sticks  at room temperature)
1 1/4  cups granulated sugar
3 egg yolks
1  cups milk
1 teaspoon vanilla extract

---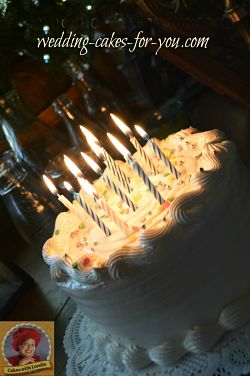 Delish!!!!
Sift together flour, baking powder, and salt. Set aside

In the large bowl of an electric mixer beat the butter until soft and smooth. Add the sugar and beat until light and smooth. Add egg yolks one at a time, mixing after each addition. Stop the mixer and scrape down the sides of the bowl and the beaters several times.

With the mixer on low speed, alternately add the flour mixture and milk, beginning and ending with flour. Stir in the vanilla. 

Divide the batter evenly between the pans. Smooth the batter level, then spread it slightly from the center to the edges.

Bake in the preheated oven for 30-35 minutes or just until the tops are springy or a cake tester comes out clean.

Cool the cakes in their pans on a rack for 10 minutes. Then invert onto racks.

Ideas for Yellow Cake 
Add a variety of flavors with extracts to replace the vanilla
Try various toppings and fillings
Chocolate Buttercream
Dark Chocolate or White Chocolate Ganache
Coconut Frosting
Toasted Coconut 
Chopped Toasted Nuts
Fresh Fruit Filling 
Lemon Curd
Use your imagination and do not be afraid to try out new ideas. The basic recipe stays the same but the flavor possibilities are almost endless.
This article was printed from Wedding-Cakes-For-You.com