Fresh Apple Cake Recipe


Start with firm fresh tart apples to make this fresh apple cake recipe. It's perfect for a Thanksgiving dessert. Bake it in smaller fancy Bundt pans as a gourmet Christmas gift. Not only is it super moist, it's packed with healthy ingredients like fresh tart apples, cinnamon, nutmeg and walnuts . Watch the video to see a review from my sister in law Lori  as she goes for a second piece.

Fresh Apple Cake Recipe Video

Topped with Carmel
Follow my step-by-step instructions in this video. 
This is a WOW! Once you try it you will never go back to another apple cake recipe.  Try adding a handful of chopped cranberries or even blueberries to add a little variety. You could also replace the walnuts with almonds or pecans. 
Apple Cake Recipe

Preheat oven 325 Fahrenheit . Makes one 10 inch Bundt cake

Ingredients
1 1/2 cups vegetable oil

1 1/2 cups granulated sugar

1/2 cup dark brown sugar

3 large eggs 

3 cups all purpose flour

1 teaspoon baking soda

2 teaspoons cinnamon

1/2 teaspoon nutmeg

1/2 teaspoon salt

3 1/2 cups chopped fresh tart apples

1 cup chopped walnuts

1 teaspoon each vanilla and almond extract

Confectionery sugar for dusting



Caramel Topping
3 tablespoons butter

3 tablespoons heavy cream or (half and half)

3 tablespoons each brown sugar and granulated sugar

1/4 teaspoon vanilla or almond extract
Method
Prepare your pan by greasing the bottom and sides with a layer of shortening or spray such as Pam. Dust the pan with flour and tap out the excess. In your mixing bowl blend the oil, brown sugar and granulated sugar.  Add the eggs one at a time beating after each addition until mixed well. Stir the dry ingredients together and add to the oil and sugar mixture, blend well. Add the apples, nuts and extracts and mix by hand. Pour the batter into the prepared pan and bake at 325 degrees Fahrenheit for 75 minutes or until a toothpick pushed into the center of the cake comes out clean. *Note ( I turned my oven down for the final 15 minutes to 300 degrees ) 

Cool the cake for 20 minutes before removing it from the pan.
While the cake is cooling, make the glaze. In a small saucepan combine the butter, cream, extract and sugars. Bring that to a boil for one minute, stirring constantly. Cool it a little bit and brush or spoon it onto the cake. Save the extra for serving. 
Finish the apple cake with a dusting of powdered sugar and prepare to be blown away. 
Moist With a Crunchy Caramel Glazed Crust 
This incredible fresh apple cake recipe is a winner!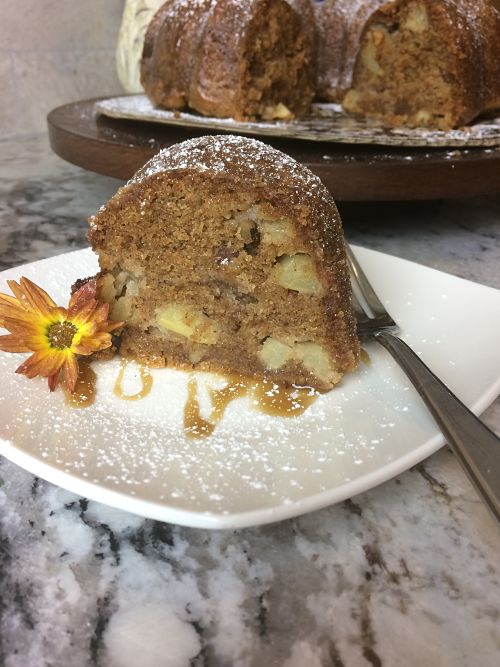 Moist and slightly crunchy
Build Your Skills and Confidence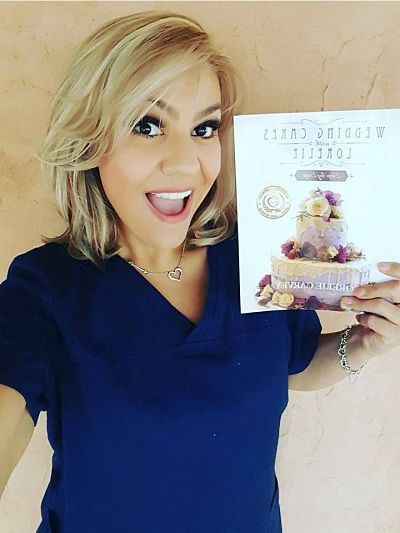 Click on the picture of Roxie to see how Wedding Cakes with Lorelie Step-by-Step will help you build confidence to create beautiful cakes and cherished memories. 
Impress your friends, family and customers with the same tried and true recipes that I have used with great success since 1985. The book comes with perks...
A membership to our Cake Crew on Facebook 
A special page on this website just for you 
All about Apples 
This article was printed from Wedding-Cakes-For-You.com