Hazelnut Cake Recipe
I am blown away by this Hazelnut cake recipe and I think you will be too. I made this for a friends wedding cake many moons ago, and it was a wow! 

Watch the Hazelnut Cake Recipe Video 
---
Hazelnut Fudge Cake
This will make two 9 or 10 inch layers or three 8 inch layers. Bake them for about 20-30 minutes or longer just until the cake springs back when lightly pressed in the center or when a toothpick stuck into the center of the cake comes out clean.
The hazelnut fudge recipe calls for the usual oven temperature of 350 degrees. 325 to 335 for convection. The recipe yields 8 cups of batter.
Prepare three 8 inch or two 9 or 10 inch pans with shortening and a dusting of flour plus waxed or parchment paper lining

Ingredients
3/4 cups Hazelnut meal - I use Bob's Red Mill Brand from the grocery store health food section
2 cups all purpose flour
1 1/2 teaspoons baking soda
1/4 teaspoon salt
3/4 cups cocoa
3/4 cups boiling water
6 oz  butter softened
1 1/2 cups brown sugar
1 cup granulated sugar
4 1/2 eggs = 6.75 oz ;158 grams
1 tablespoon of vanilla 
1 1/2 cups buttermilk
Method
Start by tossing together the flour, baking soda, salt and hazelnut meal. Set aside. Mix the cocoa and the boiling water to make a paste and set aside to cool. Add the butter to the mixing bowl and beat at high speed for 2 minutes at high speed. Add the brown sugar and beat for 3 minutes at high speed. Add the granulated sugar and beat for another 3 minutes at high speed. Scrape your bowl down occasionally
Add the eggs one at a time mixing on medium speed after each addition until blended in. Add the vanilla and the cocoa paste. Final step is to alternately add the flour mixture and the buttermilk in three additions beginning and ending with flour. Your Hazelnut Fudge Cake batter is ready for your pans. 
Split the batter between the pans. Bake until the cakes spring back to the touch or a toothpick stuck into the center comes out clean. Enjoy this delicious Hazelnut Cake Recipe!         
Ideas For Enjoying Your Hazelnut Cake Recipe
Whipped cream frosting was used for my original test cake.  You can choose many options from this website for filling and icing.  Add a bit of Hazelnut flavored liqueur (Frangelica) to taste and press chopped toasted Hazelnuts into the finished cake. See more ideas below for flavor combo's.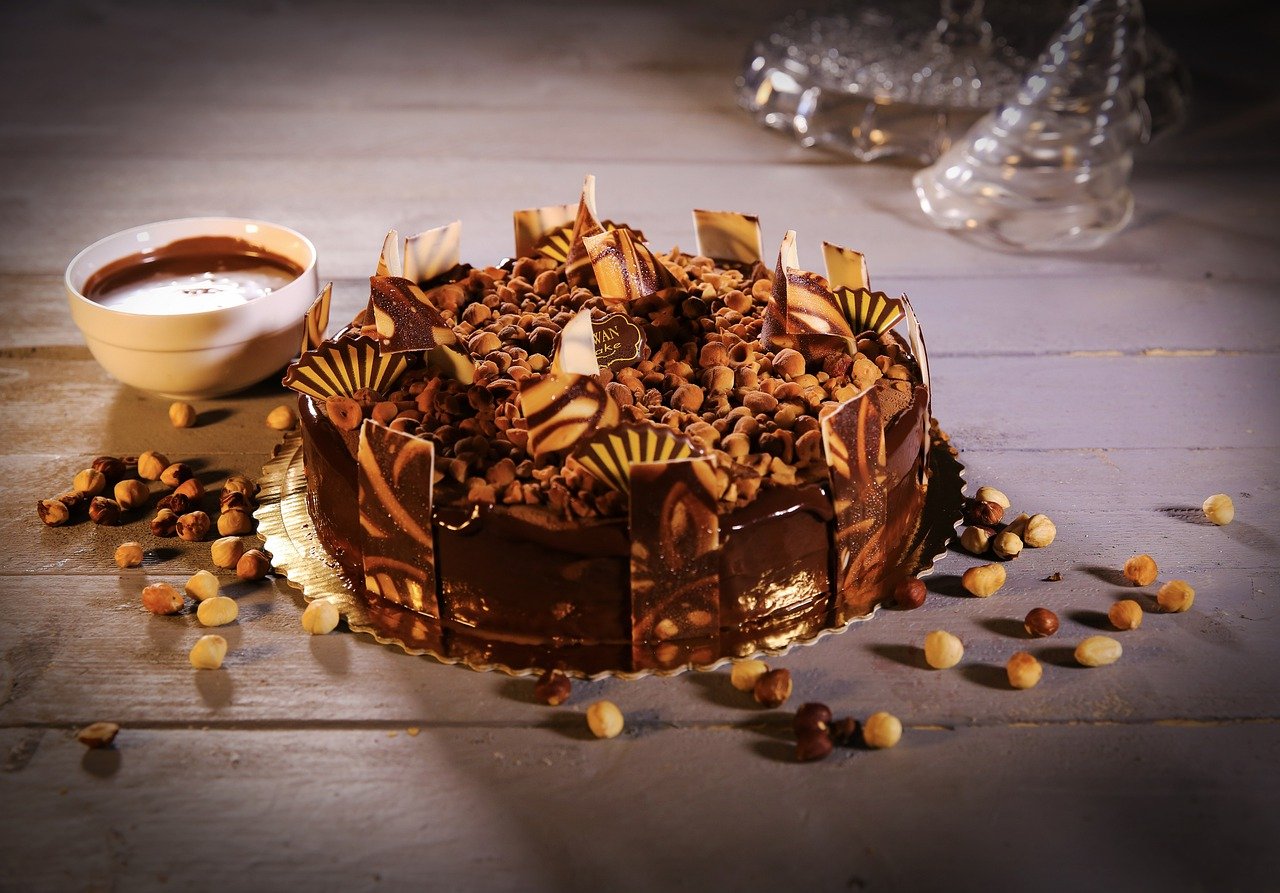 Devine Hazelnut Fudge Cake
Whipped cream with confectioner's sugar to taste and Hazelnut meal makes a wonderful filling and frosting for this cake. If you were going to use it for a wedding cake I would suggest using buttercream, chocolate ganache or chocolate mousse. The cake is very subtle and light so a lighter meringue buttercream would go very well as a filling and frosting. 
More Tasty Combinations 
Toasted Chopped Hazelnuts Pressed Into the Sides
Decorating Ideas
Roasted Hazelnuts Dipped in Chocolate
Chocolate Leaves
A Simple Comb On The Sides and Top
Hazelnuts are also known as Filberts and have many health benefits. Here is a website with more information about heart healthy nuts
About Hazelnuts 
This article was printed from Wedding-Cakes-For-You.com