Pecan Cake Recipe
This pecan cake recipe is a southern delight made with rich delicious butter and chopped buttery Pecans. It is best when served at room temperature for full on flavor. If you are a Pecan lover then give this one a try. 
"I used your brown butter frosting recipe with this Pecan recipe and also added a Bourbon infused simple syrup. It was truly delicious!!!

I am so enjoying your tutorials and have purchased your step-by-step wedding cake ebook. I look forward to making my friends bridal cake next year".
" ~Noreen Abel ~
You can use the American style buttercream or any or any of the meringue buttercream frosting recipes here on this website. 

Add a bit of Almond extract to taste and press chopped toasted pecans into the finished cake for even more nutty flavor.  See the bonus recipe for Spiced Pecans on my YouTube Channel. Great for gifting or to add even more outrageous flavor to this already great recipe.

A Pecan Cake Recipe Video For You
I talk you through the recipe and method in the video. This will make two 9 inch layers  or three 8 inch layers. Bake them for about 20-30 minutes or longer just until the cake springs back when lightly pressed in the center. 

Ingredients

NOTE: The recipe calls for the usual oven temperature of 350 degrees, convection at 325. This cake yields about 12  large servings for birthday sized pieces. Prepare two 8 inch or 9 inch pans with shortening and a dusting of flour plus waxed or parchment paper lining.
2 cups chopped Pecans

1/4 cup melted butter 
2  3/4 cups of all-purpose flour
2 teaspoons of baking powder
1/2 teaspoon of salt
4 eggs
1 cup of butter softened
1 cup of milk at room temperature 
2 teaspoon of vanilla 
2 cups of granulated sugar
Preheat the oven to 350 degrees
Method
Begin by roasting the pecans. Place the chopped pecans on a shallow baking pan and blend them with the melted butter. Place the pan in a preheated 350 degree oven for about 20 minutes. When you start to smell the heavenly scent of the roasted nuts keep a close watch and remove them before they get too browned. (they should be golden) Allow them to cool right on the pan while you put the rest of the ingredients together. 
In a medium bowl mix together the flour, baking powder and salt. Crack the eggs into a bowl and set them aside. Place the milk and vanilla in a bowl and set aside.
Put your butter and sugar into your mixing bowl and beat until light and fluffy. Add eggs one at a time and mix after each addition. Alternately add the dry mixture and the milk and vanilla mixture to the mixing bowl with the butter and sugar until it is all blended together. Beat for an additional minute. Now add and blend your Pecans to the batter.  
Split the batter between the pans. Bake until the cakes spring back to the touch or a toothpick stuck into the center comes out clean. 
Enjoy this delicious Pecan Cake Recipe!
Ideas For Enjoying Your Pecan Cake Recipe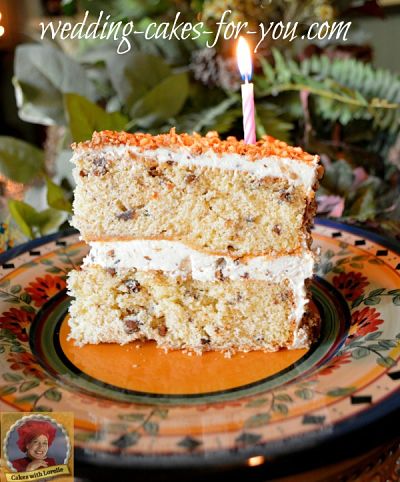 So Darn Good
A chocolate ganache or glaze lends itself well to a nutty cake such as this one. Whipped cream would also be a delicious accompaniment. Try adding Rum, Bourbon or a touch of Cinnamon.
More Tasty Combinations
Toasted Chopped Nuts Pressed Into the Sides
Decorating Ideas
Roasted Pecans Dipped in Chocolate
Chocolate Leaves
Pastel Colored Fresh Flowers


Build Your Skills and Confidence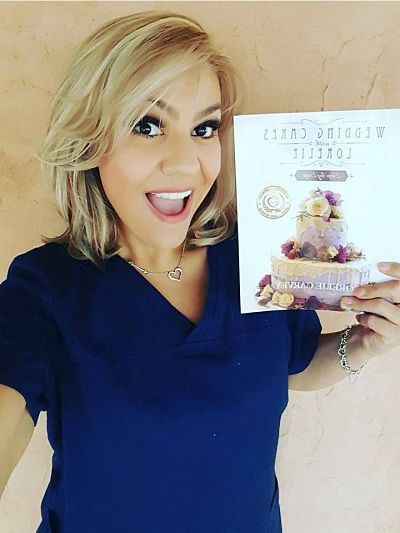 Click on the picture of Roxie to see how Wedding Cakes with Lorelie Step-by-Step will help you build confidence to create beautiful cakes and cherished memories. 
Impress your friends, family and customers with the same tried and true recipes that I have used with great success since 1985. The book comes with perks...
A membership to our Cake Crew on Facebook 
A special page on this website just for you 
All about Pecans
This article was printed from Wedding-Cakes-For-You.com