Easy Butter Cream Frosting


Butter cream frosting is so easy to make and very tasty and delicious. You only need three ingredients to make this luscious alternative to the Italian or Swiss meringue buttercream.
Pipe butter cream roses, leaves, borders and even figurines from this yummy sweet and smooth frosting. You can also add endless flavorings like chocolate, fruit jams, crushed Oreo cookies, nuts, candy ... you name it. It's very versatile.  Links to pages on how to pipe decorations and cake decorating classes are at the bottom of the page.

Basic Butter Cream Recipe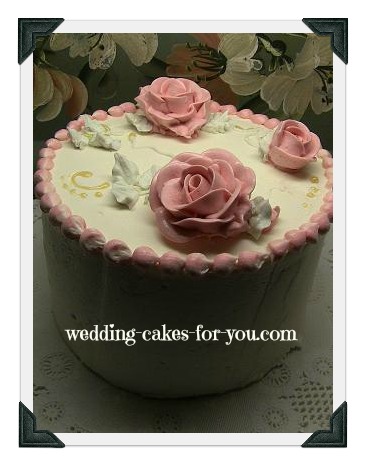 Easy Basic Buttercream
"Thanks for your help, again Lorelie! I tried your simple butter + vanilla + icing sugar butter cream frosting recipe. I found that you don't need to add too much icing sugar to achieve a nice consistency. It held its shape very nicely"
~Sophie~

Ingredients
Unsalted butter
Confectioner's sugar
Vanilla, almond or lemon extract to taste
Optional: For added creaminess a small amount of milk or cream can be added
I make my easy buttercream frosting to taste. I never measure for this recipe. I may for example start with 1 lb. (4 sticks) of unsalted butter and add 1 lb. of confectioner's sugar and a teaspoon or two of flavoring extract. Taste and adjust to your liking. Experiment with amounts of butter to sugar until you are satisfied with the flavor and texture.
Directions
Whip up the butter until it is as white and fluffy as possible. Add the sugar and vanilla continue mixing at a medium speed. Optional add milk or cream.

Dominoe's Recipe
Pretty much every box or bag of confectioners sugar has an icing or frosting recipe on the back, but I find they are WAY too sweet. My suggestion is to take a look at one and adjust the sugar to your taste. (as I did in the example above)

1/2 cup of butter, or margarine. (I personally would never use margarine)
3 -3/4 cups confectioners sugar
1 teaspoon vanilla extract
Makes enough to fill and frost an 8 or 9 inch 2 layer cake or 24 cupcakes



This is the easiest frosting to make! 

TIP: Add melted chocolate, finely chopped nuts, fruit, jam, lemon or orange juice, almond extract or liquors for a variety of flavor choices.
More Butter Cream Frosting Recipes
Their is so much controversy over buttercream frosting and which kind is best for various types of cake decorating tasks. I find this recipe to be a good all around one to use for just about everything. If you want to give the meringue frosting's a try give yourself some time to practice. Once you get the hang of cooking the sugar to the correct temperature you will probably find the taste to be superior. 
Do you have questions about icing? If so go to the Q&A section where you will find answers to questions such as...
Can I frost a frozen cake?
What is crumb coating a cake?
How do I stabilize whipped cream icing?
Flavoring buttercream and more....
This article was printed from Wedding-Cakes-For-You.com