Extravagant White Chocolate Frosting

White chocolate frosting, which can be used for a most delightful wedding cake filling is so easy to make you won't even believe it.  Check out the recipes below and see. 

This delicious slice of wedding cake is an orange butter cake with white chocolate icing and filling, with the addition of raspberries.
This recipe starts with the easy buttercream recipe which is simply unsalted butter, powdered sugar and flavoring (vanilla, almond, lemon extract etc...)

A Slice of Heaven

Start With The Basics

This is really a non recipe because it is done by taste. Brgin with 2-4 lbs of softened butter and beat until light and fluffy.  Then add confectioners or powdered sugar until it has reached the sweetness level that you prefer. Then  add the flavoring. A teaspoon of lemon, almond or vanilla.
The next step towards the wonderfully rich white chocolate frosting is to melt (very carefully) the white chocolate and add it to the buttercream.
This can be made sweeter by adding more powdered sugar, you may also want to add more melted chocolate to taste.
4 lbs of butter
2 lbs. Confectionery sugar
1 teaspoon vanilla, or almond
Make your buttercream by beating the softened butter until fluffy, add the extract and the sugar and continue beating until smooth.

Melt 10 ounces of white chocolate in a double boiler over low heat, stirring constantly. It takes a little bit of work to get it smooth
TIP: add a few drops of oil to the chocolate as it melts to smooth it out a little more. I sometimes use this little trick.
Add the melted chocolate to the buttercream and mix well. 

---
About White Chocolate

White chocolate is not considered "real chocolate" at least not in the U.S.  because it is not made with cocoa solids. High quality brands are made with cocoa butter, such as Lindt and Tobler.
It contains 30% fat, 30% milk solids and 30% sugar. It also contains vanilla and lecithin.
Be very careful when melting white chocolate because of the milk content. Excessive heat changes the protein in the milk resulting in a lumpy chocolate.
Always melt it slowly over warm(125 degrees F) water, stir it often to prevent crusting, and use it soon as it is melted.

You can use white chocolate the same as dark chocolate. Chocolate leaves, curls and decorations.
 
---
White Chocolate Cream Cheese Buttercream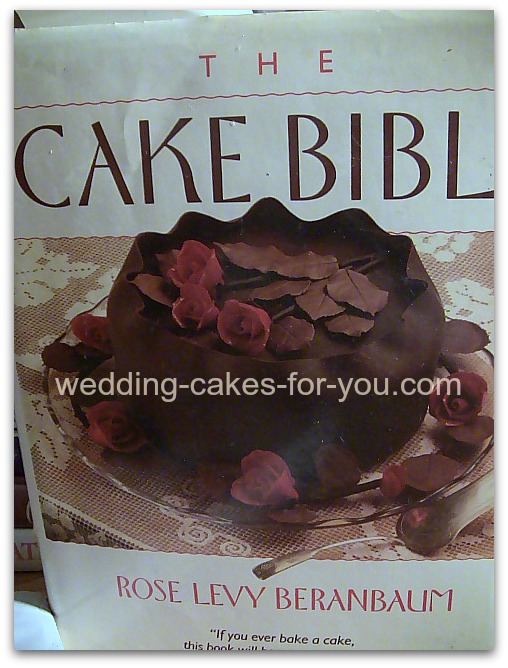 This is from the Cake Bible

White Chocolate 9 ounces
Cream Cheese 12 ounces
Unsalted butter 6 ounces
1 & 1/2 Tablespoons

Beat the cream cheese until smooth and creamy. Gradually beat in the melted chocolate. Beat in the butter and lemon juice.
---
This White Chocolate Frosting makes a great wedding cake filling...

This article was printed from Wedding-Cakes-For-You.com