Wedding Cake Flavors At Wedding Cakes For You
Wedding cake flavors from my original tropical style carrot cake to a moist buttermilk chocolate combination. Impress your guests with the best. There are countless flavor choices and combinations. The choices below are examples of my best cakes and the most requested.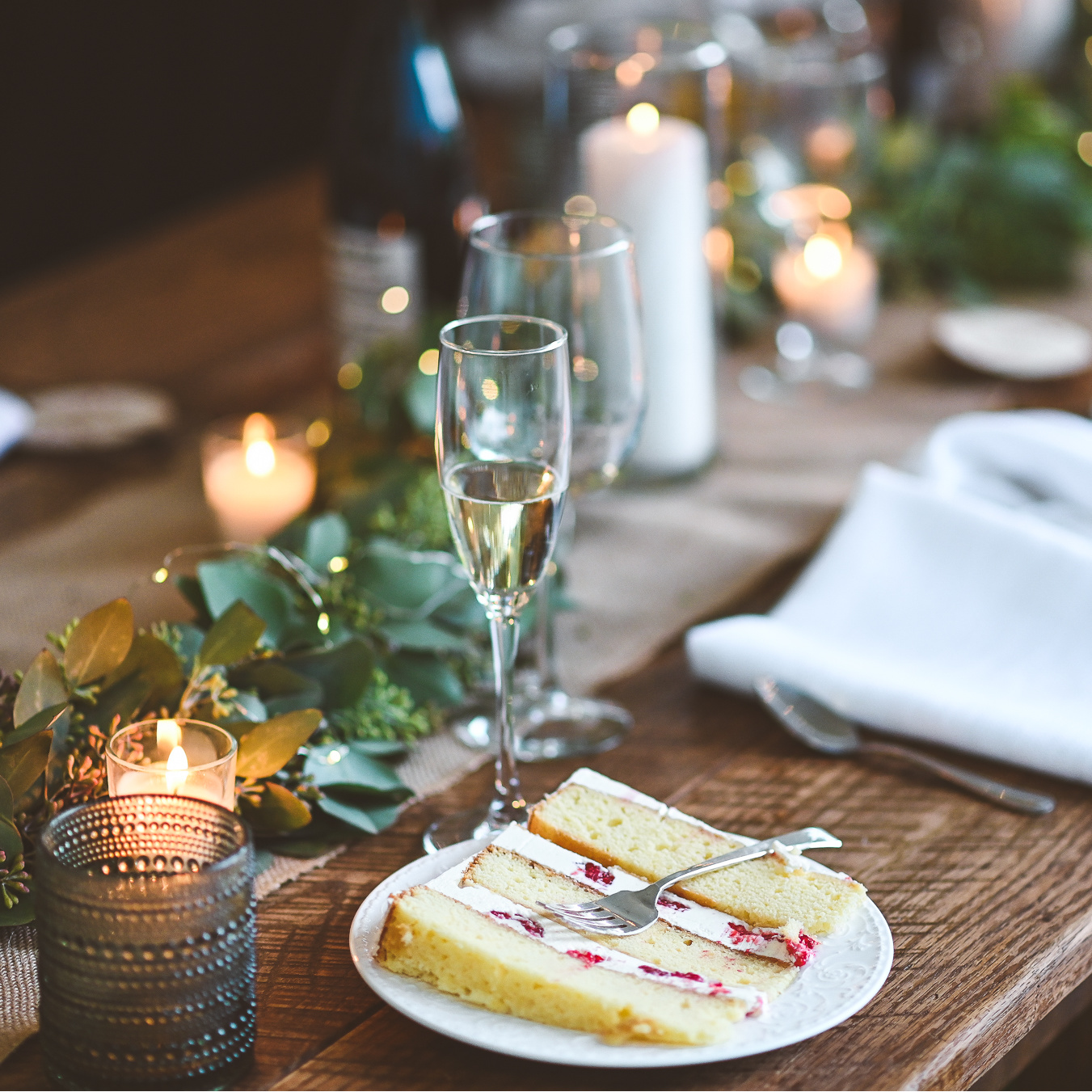 Photo by Kelley Elizabeth Photography
"We would like you to know that we absolutely enjoyed meeting you and your cakes were by FAR the best we tried! "
~Adrienne~
Menu of Wedding Cake Flavors

Coconut Cake - Three fluffy layers of Coconut cake filled with luscious Coconut cream cheese, English Lemon curd and fresh Raspberries. Also delicious with fresh Pineapple custard filling. 
White Chocolate Raspberry Supreme - White butter cake accented with Orange zest made one step better by Raspberries nestled in a smooth white chocolate buttercream filling.  (Pictured above)
Chocolate Mousse Cake - Velvety chocolate cake divided by pillows of decadently rich chocolate mousse and decorated in a smooth vanilla buttercream frosting. 
Triple Luscious Lemon Cake - Butter cake sparked with a hint of Lemon zest, a generous layering of English Lemon curd all finished off with a blanket of Lemon buttercream.
Tropical Carrot Cake - A delectable combination of Carrots, Walnuts, Pineapple, Coconut, and spices. This old time favorite is filled and finished with a delightful lemon cream cheese frosting.
Marbled Cake - The best of both worlds. Chocolate and white cake swirled to perfection. A nice accompaniment to this cake is a chocolate mousse filling with a rich vanilla frosting. 

"Lorelie--thank you for your flexibility in working with us on the flavors and design. You offered many options and we were so pleased with the outcome--a dark chocolate cake with layers of mocha butter cream filling with dark chocolate chunks and a vanilla butter cream frosting...yummmm... Your design worked perfectly with our wedding theme of an outdoor, late summer garden.

~Lisa & Ryan~
A Peek at my Kitchen 
This is where I create. I have a very small intimate home kitchen where I bake custom gourmet wedding cakes. I take a limited amount of orders so that you will have my undivided attention. Enjoy! The credits are below the video. 
CREDITS: Film By Gr8Reels Productions Presents: Wedding Cakes with Lorelie @ Wedding-Cakes-For-You.com We affectionately call her the "CAKE ANGEL" from Heavens Kitchen
STARRING: Lorelie Carvey - The Cake Angel @ Wedding-Cakes-For-You.com
Corina Katt Ayala - Bride @ corinakattayala.com
Jeff & Steph Sheerin - Bride & Groom
PRODUCED & DIRECTED by: Joaquin M. Rosa of Gr8Reels Productions 
MUSIC: Sailing Stones by Chad Carvey of Hubbell Mountain @ hubbellmountain.bandcamp.com/album/stereoscope
Additional Photo Credits: Book Cover Cake Photo: John Munno @ johnmunnoweddings.com
Logo Photographer: Meken Studios @ mekenstudios.com/fashionbeauty.html
Logo Design: Gini Fishcer @ ginifischer.com/
Photographer: Annandale Photography @ annandalephotography.com
Florals: Earthy Elegance Florals @ earthyeleganceflorals.com
Venue: Metropolitan Building @ metropolitanbuilding.com
Bridal Designer: Veluz Reyes @ veluzbride.com
Bridal Gown Distributor: Ever After Bridal @ eabridal.com
Vintage Jewelry: Alex Karenin Estate Jewelry Store
Hair/Makeup: Dallas Williams @ makeupandhairbydallas.com
Aida Krigin Photography @ theknot.com/marketplace/aida-krgin-photography-harrison-ny-385084
This article was printed from Wedding-Cakes-For-You.com