Custom Search

Cake Decorating Contest 

And Sharing Page
Welcome to the cake decorating contest and STORY sharing at Wedding Cakes For You.  Share your latest creations and add to the growing collection of charming, clever and and delightful masterpieces! All of the cakes on this page are from readers like you who are handy with a pastry bag and are willing to share their skills with everyone.
"I can't believe all of the cakes that are on here now; a virtual 'plethora' of ideas.....Great job Lorelie and Wedding Cakes For You!!"

~Colleen Charles, SweetCakes & CheeseCakes~

Since starting Wedding Cakes For You in 2009 hundreds of cake decorators have shared and entered the cake decorating contest here . Below you will find photos and stories from talented people from all over the world.
They have revealed inside tips on how they made their cakes with recipes, tutorials, and even some bloopers.  The inspiration that you can find here is priceless, and it's FREE.

Share your cake creations...and check out even more pictures from decorators at the bottom of this page for ideas and inspiration.


Have A Great Story And Photo to Share?
Do you have a great cake story with a photo of your cake? Please Share it!
Fabulous Cakes And Stories by You :-)
Click below to see contributions from other visitors to this page...

Creative Entries - Cake Decorating Contest and Story Shares

Some of these luscious creations are contest entries and some are not, but they all deserve a medal for their hard work and generosity.
NOTE: No cake decorating contest is currently running. 
Fairy Cake
Jason Peters shared this incredible Woodland Fairy House cake that he made for his daughter! Wow! I am proud to say he found my website helpful.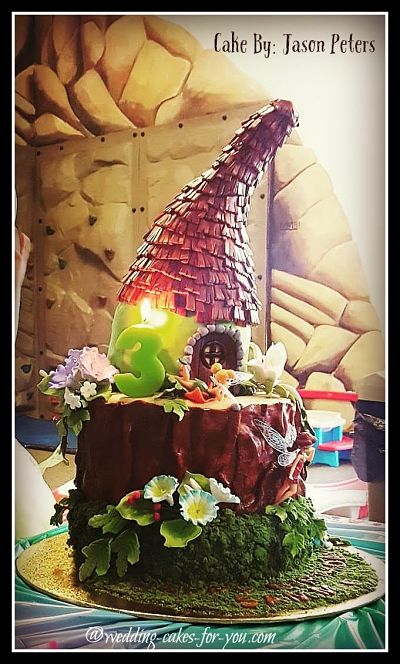 An Enchanted Cake
Here is what Jason had to say.
"I went with your chocolate buttermilk cake with the coffee, which always turns out amazing and it tasted great as always at the last party. I just recently started baking cakes , this was probably my 6th cake.
I got into it because I just had a daughter and I knew that she would need lots of cakes over the years so why not start now and save some money :)
But I will say that there has not been a single recipe I have found that comes close to how great and tasty your recipes are. I think you are a great culinary artist, thanks for the info on your site."
~Jason~
Fondant Birthday Cake
Tammy came to me for advice on a gumpaste cake topper and look at what she created!!!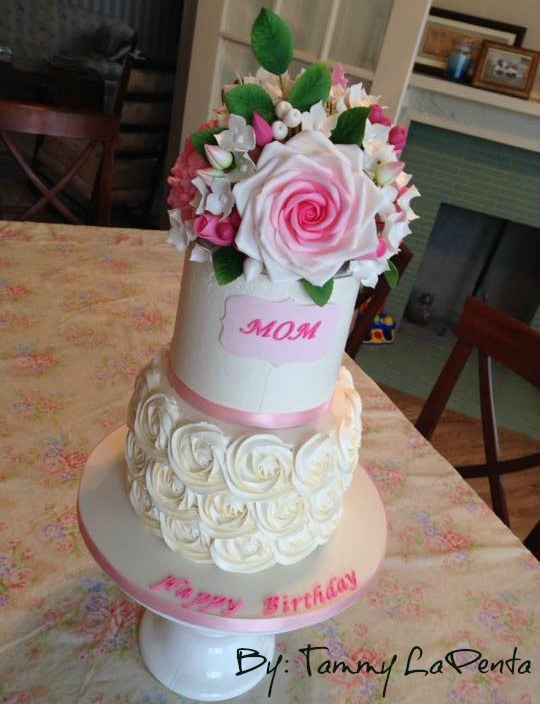 Exquisite Burthday Cake
Here is how she ended up making her topper...
"I used a a half moon  fondant covered Styrofoam ball which is edible glued to a 6" round disk that I also covered in fondant. The hardest part was getting the smaller wired flowers into the styrofoam. Everyone was super amazed; especially our birthday moms.
The Swiss meringue icing was absolutely delicious but the cakes all seemed a little dry. I even put simple syrup on them. I think they were refrigerated to long but I had to bake ahead at home them travel 200 miles to where our parents live. I think maybe keeping them frozen right up until frosting is what will be best next time.  
But I am really happy how the cakes turned out! My husband is happy that we will have home cooked meals again. Lol. Thank you again for sharing your expertise with me. "

Tammy LaPenta
Horse Statue Cake
Cara Schneider, an accomplished cake decorator/artist, made this horse head statue. Turns out my humble website had some influence on her many years ago :-)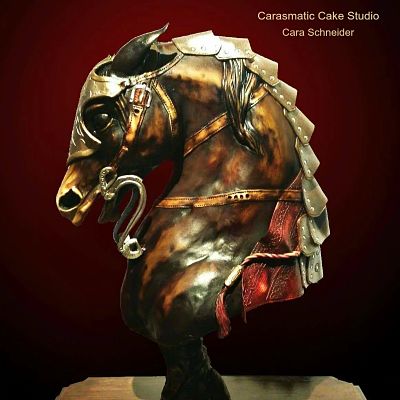 Yes!!! It's A Cake!!!
Here is what Cara said...
"Omg your website was the first one I came across when I started making cakes! Yes it is a cake :))) Thank you for sharing.
The chocolate buttermilk recipe is a favorite of mine. We also love your baked cheese cake! We cooked it once in our bbq as my oven died right as I put it in... I must say cooked in the BBQ it was AMAZING! The only problem it had was a crack in it as everyone had to take a look while it was cooking! My guests still talk about that! Haha"
~Cara Schneider~
A Wine Bottle Cake
Nicolette's son was a recipient of an Icing Smiles cake and it inspired her to start baking!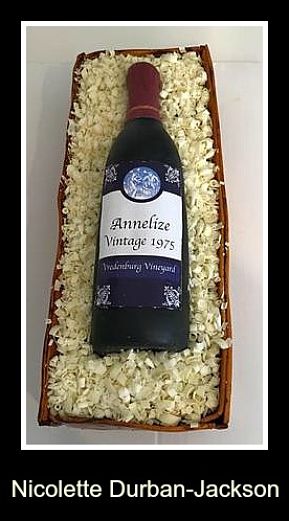 Vintage 1975
"This cake was made for a friend of mine's 40th birthday.  The sides of the cake and the wine bottle are made of fondant and the inside of the wine box is a decadent double chocolate fudge cake.  All the cake elements are edible, except the label - which was removed prior to serving."
~Nicolette Durbin Jackson~

Video of The Blue Ribbon Winners

"Hi Lorelie, Thank you so much for the wonderful surprise and giving me an honorable mention at your  cake decorating contest. That is very cool. Keep up the great work and your helpful website is a newbie's dream come true. Have a great day."
Sincerely ~Yani~
Your submissions help to make Wedding Cakes For You a treasure trove of ideas and is fast becoming one of the best places to go on the internet for FREE wedding cake and cake decorating information.

Your contributions to this website are really appreciated by me and the thousands who visit daily. 

Thank You 

~Lorelie~

---
Back To Main Decorating Directory Page