Harry Potter Cake
by Karen Chagnon
(Stoddard, NH)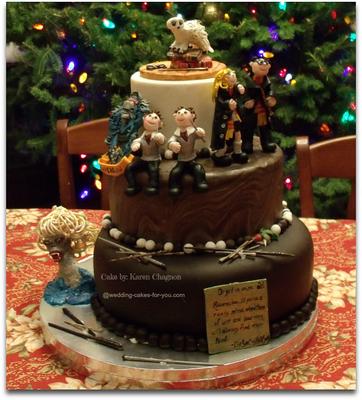 Harry Potter Cake For Icing Smiles
Harry Potter Cake-I was contacted by Icing Smiles to make a "Dream Cake" for an older sister of a little guy with a heart condition. The sister was always there to babysit, run the household and many other things beyond her age while Mom & Dad were at doctor appointments or the hospital. She does all of this without a complaint.


Her dream cake was made for her love of Harry Potter. The top two layers were done on dummy cakes so she could have it for a keepsake. The bottom layer was her favorite cake, marble with fudge filling.
All of the figures were made using 50/50 gum paste/fondant. I put in well over 120 hours of work but her joy made it all worth it. The little guy watched as I set up the cake and when I was done, he exclaimed "Perfect!"
This is a Gorgeous Harry Potter Cake design Karen. I can see how much love and work went into this amazing piece of art.

How great it must have felt to present this to an amazing little girl who takes such great care of her brother. You should be so proud of this creation. I am sure that it made her very happy to receive it as a gift from you and Icing Smiles.
Lorelie
Check out the
Contest Fundraiser
that Wedding Cakes For You did for Icing Smile.