Margarita Cake
by Donnalee Steele
(Philadelphia, PA)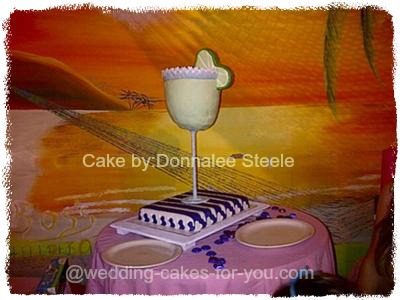 Margarita cake for a bridal shower...I was asked to design a cake for a friend which resembled the invitation. The theme was margaritas and the shower was held at a Mexican restaurant. My husband and I were up all night rolling fondant, making heart cut-outs, rice krispie treats...you name it.


The bottom part is a chocolate chip pound recipe. The stem of the glass is steel rod. The glass is made from a vanilla pound recipe and support structures were added. The heart-shaped lime and the rim of the glass were made from rice krispy treats and then covered (along with the stem) with white modeling chocolate.
Everyone loved it and my husband and I are so proud of this challenging cake we finished!!
Donnalee - Outstanding! Your bride must have been very happy with your margarita design. Thanks for entering the contest! Good luck.