Violin Cake
by Keri
(Rockville Centre, New York, USA)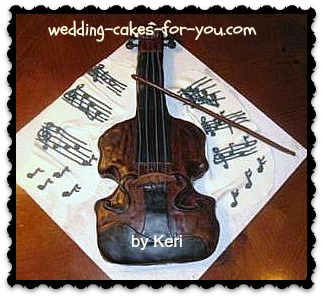 My name is Keri and I am currently attending graduate school. I began to watch television shows about cake decorating a year and half ago, and was so intrigued by the amazing designs that can be created.


Baking Cakes For Family
While I was preparing for attending graduate school, during my free time I would bake. My family enjoyed my designs and were astonished with the dedication and patience that I would pour into each and every cake.
As I waited to hear back from the schools I applied I realized that I should be saving for school and not spending all of my extra funds on baking supplies.
However, it was such a relaxing release for me during such a stressful time in my life. I soon realized that if I sold them, I would be more than able to create my confections at my leisure in addition to earning money to fund my expensive and expansive textbook list.
Cake Decorating Business? Why Not!
I began with advertising in local shops in my town, purchased business cards, and created a profile online. The business began to grow and I now have a viable source of income for helping with school expenses.
The Best Part About Making Cakes
I am so grateful that my cake decorating and baking skills grow with each cake I design, however the absolute best part of creating my cakes is when I deliver them and the client is so excited. Cakes are a part of a family album, and memories for years to come. I so enjoy and appreciate being included in someone's special occasion and making it even more special with a fun cake!
The Violin Cake
This particular violin cake was created for a young girl that was invited to perform at a well known concert hall. I was looking forward to creating this however was so unsure of how I would pull it off! After all it was a 3-D violin meant to look as realistic as possible.
I began by first baking a simple sheet, creating my delicious fondant, dying it brown, and then just stared at the sheet cake. I finally decided that before blindly cutting into it, I would freehand on a piece of computer paper the shape I wished to follow.
After creating the template I gingerly cut into it, so I was sure that it was the correct shape. I then iced and draped it but was unhappy because it was neat and nice but not realistic looking!
Painting on Fondant
I came up with the idea that I should mix some water and the dye and hand paint over the brown fondant to create a wood effect. The result was amazing and I now employ the same technique when creating any wood-cake (like my cigar box design). I hope that is fun and helpful tip to anyone creating a wood theme design. Happy baking!
Wow Keri, What a great story and a fantastic design. Thank you for sharing it. Good luck with the contest. Please let all of your friends and family know about your entry so they can comment and rate. We would love to see your cigar box cake too. Thank You
Cigar Box Cake by Keri