Pink Monkey Cake
by Colleen Charles
(Clarklake, MI)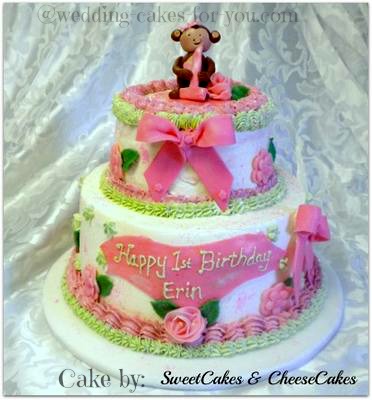 Pink Monkey Cake For A First Birthday
I had a customer's grandma contact me to make a 'smash' cake for her granddaughter's 1st birthday; one layer, a white cake,something pink and could I put a monkey on it.


They were visiting the lake in the summer and it would be a surprise for everyone involved. I hadn't made a little girl monkey yet, so I started working on it and the more I thought about it, I decided that I just couldn't do a simple smash cake. I had to do a 'special' cake for both of them.
I'm a grandma too, and my youngest grandson's 1st birthday was around the corner for me; he's a Halloween baby. I decided to 'girly' it up with bows and flowers and I love the pink and light green combo that I put together.
The bows and flower decorations were made out of pink fondant and the monkey modeling chocolate and iced it with Italian Meringue Buttercream.
Grandma LOVED it, and she called me and said her granddaughter squealed when she saw the monkey;they saved the monkey to take home.
There's nothing better to your ears than hearing a baby girl's squeal of delight! The pink monkey cake was a success!