Hightop Sneaker Cake
by Michele Owen
(Beachwood, Ohio)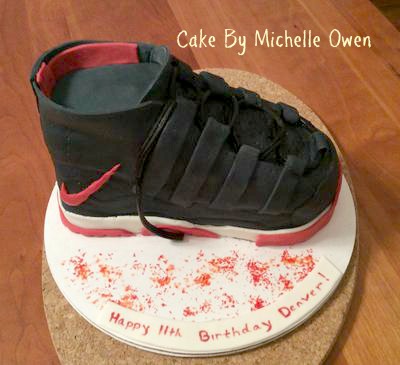 After agreeing to make a 3D tennis shoe while not having done one before, I thought it wouldn't be too difficult! Actually applying the laces was the surprisingly hard part.


Step One
My first step was to watch some tutorials on YouTube. I then downloaded some templates and enlarged them to size needed.
Put the Cakes Together
I made a half sheet vanilla cake, cooled it and placed it in the freezer. Carving a cold cake is easier with less crumbs. Using the sole template I carved three soles filling two layers with buttercream, placed the the third layer on top and refrigerated the cake.
Carving
Once firm I carefully carved a slope starting at about a third of the top layer to create the hightop, vamp and toes for the shoe. I frosted the cake, inserted two straws through the top for support and returned it to the fridge.
Fondant Decorations
I used the shoe template to cut out the fondant decorations. First the top was attached, the tongue, and the toe. Next I aligned the sides of the shoe in the back. I drew a template for bands around the shoe and on the hightop, cut them out and attached them.
The Trickiest Part
The loops and laces were the trickiest part. I bought licorice wheels for the laces but they wouldn't straighten out. I then attached the loops and cut individual pieces of licorice to criss cross between them and attached longer pieces for the laces. Last came the Nike logo.
All in all I was quite pleased with the results. I am posting the templates along with the photos of the sneaker.
Thank you Michele for this great tutorial for a high top sneaker cake idea. I have never thought of making a cake like this. Very cool :-) And thank you for the template. Maybe you could send them to me and I could transfer them to a PDF document and I could upload it to the site here so that others can download it? Ill email you as to the details of that. Thanks again for sharing your cake decorating skills and recipes here at Wedding Cakes For You.