Gladiola Fondant Flowers
by Kimmy
(New Zealand.)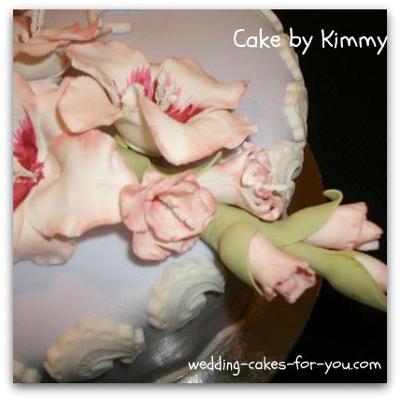 Hi Everyone,


I am very proud of this cake, not because of the finish so much as the fact I wanted to give up but stuck to it.
A lady came to me and asked for a 30th Anniversary cake. She wanted a violet cow…..don't ask I don't know the answer to that little gem. She also wanted gladioli fondant flowers. Before she had children, she used to grow them with her husband and it would mean a lot to her.
I said I would give anything a go, after all, you can find anything on the net these days right? Wrong! Not a single one. I found these strange cutters and a lesson on how to use them but they looked more like a Lilly. Now if things couldn't get any worse I took a look at the variety that she grew. Wine and roses was the name and this really sent me into a tail spin. Ummmm wonder if she likes roses!
It took me 2 nights to work these flowers out. I ended up making my own mould for the job. I made 3 once I had a flower I was happy with, allowed them to go hard and spent an evening studying pictures on google and getting the colouring right. I painted the centres and dusted the petals. I then used these 3 flowers as a guide for what worked and what didn't.
There are two varieties' of the wine and roses. A baby pink and a peachy pink, both are simply lovely to look at. The cake was picked up today and everyone was very pleased with the result. I was thrilled that I managed to work out a solution to the gladioli fondant flowers, well worth the effort in the end.
Kimmy NZ