Rubber Ducky Cake For A Baby Shower
by Debi Hallowell
(East Springfield, P.A.)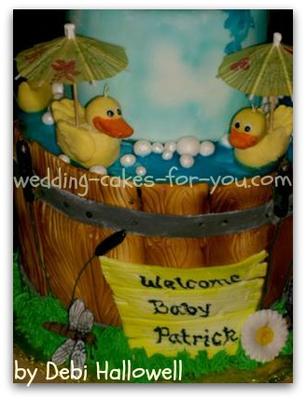 I am very excited about this rubber ducky cake that I made for a baby shower. I started out with 3-10" layers of cake for my bottom tier.


In order to make the bucket tall enough I had to use more cake! I tapered the bottom of the cakes so it would look more realistic. The top was made of two 6" layers. I iced both with buttercream, then covered the top with 1 piece of marshmallow fondant.
For the bottom I cut out individual slats of fondant about 1" wide. I used my fondant tools to make the woodgrain pattern. After they dried a little I placed them on the cake leaving a slight gap between each one. I trimmed them to the same height. Then I airbrushed them using a burnt umber color.
I rolled out some grey pieces and cut a piece for the top and bottom of the bucket. On the top of the bucket, I placed my 6" layers and used blue piping gel for the water. In the top of the 6" cake I put a straw inside to hold wires for the water fountain effect. I iced the wires with royal icing to make it look like water droplettes.
The ducks were hand modeled out of yellow and orange modeling chocolate. The umbrellas were just little drink decorations stuck under the rubber duckies wings. I rolled little balls of fondant for the bubbles and dusted them with white pearl dust for some sparkle.
The details on the bottom of the cake are made with a grass tip, floral wire and fondant. I had a blast making the bee, dragonfly, and butterfly! This rubber ducky cake is my favorite cake!!!!
This is so cute Debi. Thank you for sharing it here.

See Debi Hallowell's Fall Fantasy Wedding Cake submission to the contest.

A recipe for marshmallow fondant