Lightening McQueen and friends
by Cheisa Webb
(Indiana, PA)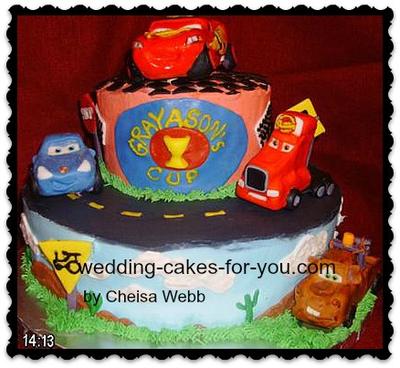 I never know how I'm going make things work out the way they do but I know it's a blessing when it does.


My Cake Decorating Passion
I am an accountant by day and cake baker at night...The accounting work pays the bills but baking cakes and creating edible works of art is my passion. If a bag of money every falls out of the sky at my feet maybe I'll open a shop and be a cake decorator full time. Until then, I'll have to stick to doing taxes.
I spent an entire week making this Cars cake...I would come home from work, strap on my apron and start plugging away.
A friend wanted a Lightening McQueen cake for her son's 3rd birthday. I have three boys under 5 years old, all equally addicted to the Cars movie. Needless to say, I had plenty of inspiration lying around the house. I picked up some of their Cars toys, grabbed some rice crispy treats, made my fondant and went to town.
Fondant Disaster
Everything on the cake was edible and made from scratch. I made all the Cars characters first and chose to decorate the cake the day of the party. I was getting ready to fondant my cakes and the strangest thing happened. My fondant was like chewing gum! It was a sticky nasty mess... I tried to add powdered sugar...then it wouldn't roll without cracking. So I said forget it and started again only to have the exact same thing happen! ARRRGH!!! I didn't know whether to scream or cry. I had 2 1/2 hours to figure out what to do before I had to deliver the cake...So I gathered my self took a deep breath, made a big batch of buttercream icing and ended up piping on all the details.
WOW!
I stepped back when I was done and said WOW! that's even better than I imagined. I now believe that it was a blessing that the fondant would not work and I was meant to use a different avenue. So I try to keep this in mind when things don't work out the way I planned...instead realize God has something better in store.
Thank you Cheisa for another great cake entry! You did an amazing job with your use of buttercream. Your characters are very well done. Great story too. There is a good lesson here in patience and perseverance. Glad you made it through! LOL
See Cheisa's winning
Sesame Street cake
entry from the previous contest.