Nature Theme Cake for Outdoor Wedding
Nature Theme Cake for Outdoor Wedding
by Ida & Charles
(Toronto, Canada)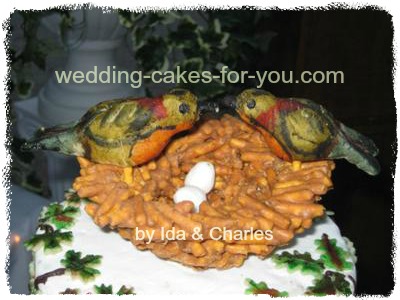 Wedding Cake Topper
Our son's "green" wedding
was held in a conservation area, and the ceremony was in the forest. So the theme was trees, mushrooms, grass and flowers.
The bride is Canadian, so a maple-tree represents her, while the European groom is symbolized by an oak tree. They have two ball-pythons as pets, thus the snakes.

I made two small leaf-shaped cookie-cutters for the maple and oak leaves out of ducting tin, and used marzipan rolled between parchment paper. The number of leaves on each tree equals the age of the bride and the groom.

Fondant , Marzipan and Crunchy Chow Mein Noodles

The snakes are made of marzipan-covered "twist tortillons". The birds on top are marzipan as well as the mushrooms. The nest is built from crunchy chow-mein soup-noodles, individually dipped by tweezers into molten toffee-crunch (it must be finely ground and heated with a small amount of water over steam). The eggs in the nest are fondant.

The tree trunks and branches are molten dark chocolate piped on, and the two trees jointly "hold" the nest. The grass and pine needles are green-colored sweetened grated coconut.

A Crab Apple Cake Stand

The support is a slice of our crab-apple tree removed a few years ago, engraved with the names and the wedding date.

Cake Flavors

The base layer of the cake is chocolate brownie, followed by chocolate cake, pineapple-orange cake, and the top section is actually two separate cappuccino dacquoise cakes, for our son's request.

Comments

Lovely Earthy Wedding Cake!
by: Lorelie

Hi Ida And Charles, Thank you for entering the cake decorating contest. Your cake is very interesting and unique. I love the birds nest on top with the beautiful fondant birds, the colors are so earthy. I LOVE the crab tree cake plateau idea and was considering that idea for an upcoming wedding cake. Very cool! Would love it if you could send a larger image file as your photos are very small and hard to see. Send them to weddingcakesforyou@gmail.com if you can and I will upload them.
Return to Cake Decorating Contest 1.
This article was printed from Wedding-Cakes-For-You.com