Minnie Mouse Cake And Monster High
by Cristi Rodriguez
(Oakley,California)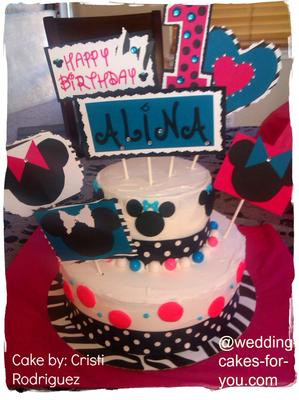 Minnie Mouse Cake
Wow...I had a three day adventure making two cakes. A Minnie Mouse cake and a Monster High design for two of my nieces They were celebrating their first and seventh birthdays.


I baked eight cakes in total that consisted of two
chocolate 10" rounds, two white 10" rounds, and four 6" rounds that were strawberry.
On Friday I made one chocolate, one white and two
strawberry and put them in fridge after they cooled. The cake toppers were made ahead of time for both cakes and attached to white 6" lollipop sticks.
The colors were black & white zebra, turquoise and hot pink and the theme was Monster High and Minnie Mouse. I took craft paper in all the colors making various toppers in Minnie heads and Monster high heads with the girls names, ages, hearts, and happy birthday sign embellishing them with rhinestones.
Late Night Baking
We had our own daughters birthday on Saturday at Six Flags and got home at 9:30 pm. We ate ice cream sundaes (she doesn't like cake..imagine that) And by 11 pm was making the remaining four cakes.
I put together the other cake that was in the fridge by trimming tops, frosting one 10" top with strawberry, stacking the other one on top and them crumb coating with white buttercream.
Same thing with the two 6" ones and then put them back in fridge. Bedtime was 2am only to wake again by 5am to crumb coat the other cake s, starting with the Monster High.
I frosted both stacks again in white, stuck my dowels in 10" for support and put the 6" ones on top. Did the same for my Minnie Mouse cake and now finally it was time to decorate.
The stripe, diamonds and hearts for Monster High s were made with black and pink fondant. Wrapping the bottom of the cakes in turquoise ribbon then attaching toppers was the final touch.
I then made hot pink polka dots and black Minnie heads in fondant. piped turquoise bows on and attached black ribbon with white polka dots on those cake bottoms.
After attaching toppers I sprinkled pink edible glitter on top of both cakes and Phew I was done!
Thank goodness it was family because the Minnie Mouse and Monster High cakes arrived a half hour late by one exhausted Aunt!