Rookie Wedding Cake
by Angela
(Barryton, MI USA)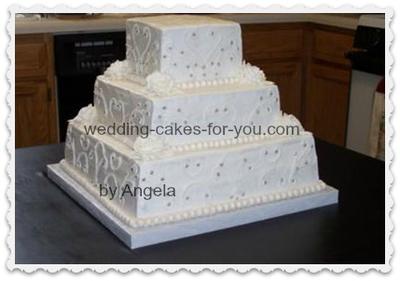 My Rookie Wedding Cake And Love For Baking And Decorating
Within the last seven months I decided to finally take up cake decorating. I have always had an interest with hands on forms of art from drawing and crafts to baking, and have been a pretty avid baker for the past several years.
The Tasting
When I finally got the baking part down pat I found a great white cake and butter cream frosting recipe. I brought the sample in to my best taste testers at work and that's when I realized this was my future.
This is something I have wanted to do for years! It was a big success so I mentioned my decorating interest to my co-workers and they encouraged me to pursue it.
The Baby Shower
I was also asked to make a baby shower cake, which was the best I could do without taking a decorating class yet and it turned out pretty well. Shortly after the baby shower I made a few more cakes for practice for my friends.
Cake Decorating Classes
I finally started my first level class. I quickly became bored with the class though as I had already taught myself to do what was covered. I never did complete that last session.
Facebook
I had posted the few pictures of my designs that I had already decorated on Facebook. Another co-worker had seen them and asked me if I would make a wedding cake for her son's reception. I emphasized that I was still just beginning and that I would do the best I could. She was more than willing to have me do the wedding cake which was in three months.
My First Wedding Time
I had decorated six cakes total before this one. All were for birthdays that I was asked to do for family, all of those were practice ones. I was excited but very scared to make this first wedding cake.
The most important thing to me was to make sure I gave myself enough time. It was a lot of work but all in all went along as anticipated. It's certainly not perfect but in my opinion was a pretty good first wedding cake.
Rave Reviews
The co-worker raved about both taste and presentation and said it received rave reviews at the reception as well. There was not one piece left. That was all I needed to hear to satisfy me and keep me interested in pursuing cake decorating as a regular activity or a possible career.
Great compliments just make all the hard work worth it in the end.
Online Help
Within the time I had to prepare for my first wedding cake I had done much reading and much on-line researching for any and all information that I needed in order to make the cake a success. All I can say is that
Wedding Cakes For You
was hands down, the most helpful site for me in order to get through the whole process successfully. The step by step video tutorials were the fantastic for anyone who has never done this before or anyone who needs a quick refresher.
I think overall Lorelie had the best tips and everything she explained made perfect sense. I am sure that this website will continue to help me with my next wedding cake and many more to come.
Cake Stats
This first time or "rookie" wedding cake was a square, three tiered, stacked, butter cream white and chocolate cake serving 125. The bottom layer was a 2 layer, 14 inch white/chocolate. The second was a 2 layer, 10 inch yellow and the top was a 2 layer, 6 inch chocolate. All that was requested was for it to be all white decorations.
It was all butter cream frosting, scroll piping and butter cream roses. The accents are candied silver balls within the scroll piping and white pearl dust covered gum paste balls bordering the bottom of each tier. All hand done.
The Best Advice From This Site
The best advice I received on this site was the use of plastic straws in place of dowels as well as frosting, cake decorating techniques and transporting tips.
My Best Cake Decorating Tips
The best tip I can give is for butter cream roses. Often times after drying or freezing the roses get nicked and pieces break off of the petals. I discovered a quick and fairly easy fix to smooth out the broken edges. Using a small paint brush dipped in thinned butter cream icing, very lightly brush to smooth out appearance of broken edges. It is a very meticulous type of technique but to anyone who wants to take the time to perfect imperfections without totally re-doing the roses, this does work. The key is to be very gentle.
Back to Top