Bikini Cake!!
by Alysia Bigge
(Evansville Indiana)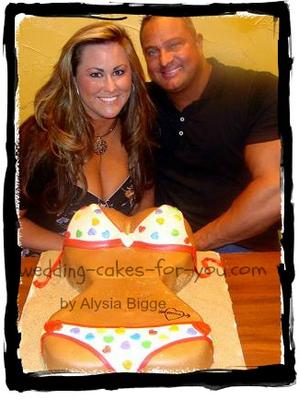 I made this bikini cake for my fiances 39th birthday!! He LOVED it!! Four 12" in Heart Shaped pans make up the body and the Wilton ball pan made the ,... ummm,... tata's lol. The bikini is my own design.


How I Started Decorating Cakes
I began decorating cakes a few months ago in Sept of '10. My birthday was rolling around and I wanted a really cool cake. My sister in law had done some fondant cakes and even made her own fondant but being as she was pregnant and had three boys under the age of 6 I just couldn't ask her to do it so I opted to have her teach me how to make the fondant and do it myself!!
My First Cake
My mom just kinda laughed expecting my first cake to not turn out well. Well it turned out BEAUTIFUL!! After my birthday party all my friends and family were wanting me to make their cakes!
Social Sites And Learning From YouTube
I never took any classes and am what I call "YOUTUBE TAUGHT". If I needed to know how to do something Youtube had a tutorial somewhere! I started a
facebook page
and decided to start a small side hobby business called "Be Our Guest Cakes and Cupcakes". I have almost 300 "fans" on my page now and am doing about 5-10 cakes a month!
How I Made My Bikini Cake
I have always been very artsy and baking and decorating is such a release for me. The cake I submitted is what I made for my fiance's 39th Birthday. He's a bodybuilder and a boob man lol so I opted to make him a woman's body cake. I went and bought a 12" x 2"( I think... Might be 14") Heart shaped pan and baked four layers. I also bought the Wilton Sports ball pan for the tata's! After I baked the four layers I cut about 3 inches off the bottom of each heart and turned on upside down to make the "bottom". It made a BEAUTIFUL hour glass shape. Then I iced the entire cake in chocolate fudge icing and then put on the two half ball pan cake on the top. And again iced over them.
Homemade Fondant
I make all my own
marshmallow fondant
and to get the pretty golden brown flesh tone I used caramel marshmallows and added a mixture of melted semisweet chocolate chips and dark karo syrup to the marshmallows before mixing it with the powdered sugar.
The lady I get all my cake supplies from was kind enough to let me borrow her airbrush tool and I used a copper color and airbrushed the entire body. The belly button was carefully made using just the back end of a paintbrush. ;) The bikini is my own design and not one Ive seen anywhere. Ive always wanted a bikini like it lol. Anyways thanks for looking and Happy Baking!!!!
Thanks Alysia for entering this sexy cake. It's the first bikini cake I have seen. Very cool.