Cherry Blossom Cake
by Clarisse
(California)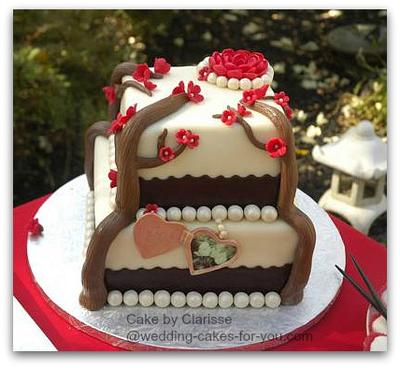 The Cake
A Cherry Blossom Cake for a very special bridal shower. I was asked to be the Maid of Honor of a friend of mine. The funny part is, I am friends with the groom. His bride to be said that since we are so close she would love for me to be her Maid of Honor. She's a sweetheart, so I said yes.


Well, they got engaged last month (July) and are getting married next month (August). That didn't leave me and his sister much time to plan the Bridal shower...and a gal needs a shower!
Since the Bride is SO accommodating, we chose the theme of the shower. We were thrilled...she loves Japanese things, so we did an
"Asian inspired tea party"
. Being in California, and the temperatures being so HOT, we decided to go with iced teas instead of hot tea.
The cake of course was the next thing to design. Not a whole lot of people were coming, so something small and simple would suffice.
Love Never Fails
Now, the couple dated before being engaged, then broke up for differences they thought were deal breakers. They dated other people, and even got engaged to other people...all the while apparently missing the other one. A little more than a year later, they literally "ran into each other" (she was running late from her lunch break and had her head buried in her work schedule...she works at a hospital, and he was running to get to the birth of his first niece).
They saw each other, and couldn't forget about that meeting. A few weeks later, he showed up at her door and said
"I'm never leaving you again"
. 10 months later, he proposed at the exact spot they met for the first time.
The Cake
So, I did an
"Asian inspired" Cherry Blossom Cake.
Her wedding colors are red, white, and black, so I incorporated that into the cake. I couldn't leave them out of the cake though...their story was too sweet and "Fairy tale like", so I made a locket with a picture of them in it, and on the other side, is the engraving "J+C 9/25/11" which is their wedding date. It's 100% edible, and is made out of an edible frosting sheet and gumpaste.
The cake itself is an
Orange Cream Cake
, perfect for a hot summer day and an outside shower which I am including pictures of so you can get the entire feel for the day.
Her future sister in law and I are also best friends and we just had the best time doing this shower for her. I wish them lots of love and lots of Blessings in the years to come! Hope y'all enjoy it.
Thank you Clarisse for your Asian Inspired Bridal shower and cherry blossom cake. Great entry. Nice addition to show the table settings as well as the cake and for sharing a romantic story about the bride and groom. Good Luck.