I'll be Home For Christmas Cake
by Maria Hartwich
( Ballarat, Australia)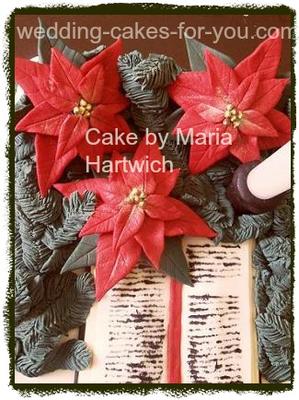 I named this particular cake "I'll be home for Christmas" because it reminds me of someone who is waiting for their loved one to come home for Christmas.


I am actually very new to working with fondant. This particular one is my 6th fondant project. I have always enjoyed art and was hoping one day I would become an artist but I had children young and that dream had soon disappeared.
I have always enjoyed baking and designing for my family and friends. A couple of months ago I learned how to make
fondant.
I made my first fondant design and thought that it was really enjoyable. It's much easier to get the results you want. Everyone was amazed and asked me to do more.
This particular cake was made for a mother who's daughter attended my twin son's birthday party. She was so amazed that she asked me to make a Christmas one for her and her family. She sent me an email of what she wanted and my creation began.
With the poinsettia fondant flowers I drew and cut out of paper 3 different sized leaves. I then imprinted them with rose leaves from my rose bush. I let the leaves dry and then built them up with fondant.
For the pine garland, I used a very small centimeter wide spatula to make many thin marks to look like pine needles. I used a real candle and
molded the fondant around it and made a holder. I thought it would be nice to use a candle so it could be lit to have more of a realistic effect.
The letters are fonts I printed and cut out. With the holly leaves I also drew and cut out and used as a template. The cake took me about 10 days to design and complete. I was very nervous about making the Bible. I had never made a book before, but I found it quite easy to do.
I started with the binder. I cut out a rectangle and folded it like a book. I then cut out 10 smaller rectangles to look like pages. I painted the edges with gold pedal dust. I also sprinkled gold petal dust on the leaves and garland.
I prepared everything as much as I could before I baked the cake and put the fondant on. It took 3 full days to get everything on it the way I wanted.
It is a homemade chocolate with buttercream icing and
marshmallow fondant
. I used a 9x9 square pan. I like to make everything with the resources I have. I don't like to go out and buy things If I know I can make it myself. So I made my own cake decorating patterns for my
I'll Be Home For Christmas cake
. It gave me great joy to create this and I hope it gives you great joy also.