A Classic Fondant Recipe 

A fondant recipe from scratch for the more adventurous. Learn how to make an original classic style sugar paste. Add white chocolate for a new flavor sensation.   

Making fondant involves heavy kneading to make it soft and pliable, so roll up your sleeves and let's get started. The recipe and information here will help to demystify this sugary rolled icing. 

An Elegant Wedding Cake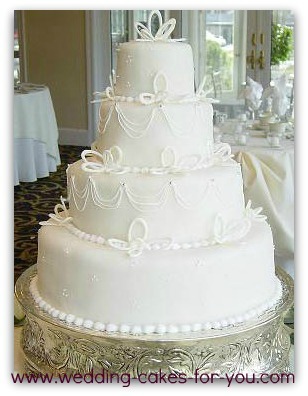 This stacked fondant wedding cake is made more interesting by combining  mediums. Royal icing drop strings, swiss dots and ribbons are spectacular with the elegance and simplicity of fondant.
Ribbons are made ahead and dried, then attached to the cake with royal. You can find royal icing here. Also called cake decorating frosting on this website because you can do so many tasks with it. 
The four tiered cake is from a wedding at the Candlewood Inn in early 2000 which is where I worked as a pastry chef. 
Ingredients for the Fondant Recipe
Here is what you will need before you begin and then I will show you how to make fondant...the traditional way
Makes enough to cover a 10 inch round cake by 4 inches high

2 lbs. of confectioners' sugar
1 Tablespoon of unflavored gelatin
3 Tablespoons of cold water
1/2 cup of light corn syrup(or glucose)
1 1/2 Tablespoons glycerin)
1 Tablespoon pure vanilla extract
You will also need...

A flour sifter
A standing electric mixer with a paddle attachment (optional)
A double boiler or one pan inside of another
Rubber spatula
Metal bench scraper
*Tip: Fondant does not need refrigeration. Wrap it very well in plastic wrap or a plastic bag, squeezing as much air as possible out and then place it in an airtight container.
Method for the Fondant Recipe 

Sift 1 1/2 pounds of confectioners' sugar into a large standing mixer bowl. Set aside. In the top of a double boiler, stir the gelatin into the cold water. Dissolve over simmering water until clear. Remove from the heat and stir in the corn syrup, glycerin and vanilla. With the mixer on low speed slowly pour the gelatin mixture into the sugar which was set aside in the large bowl. Scrape down the sides with a rubber spatula. Continue beating on medium speed until well combined and very sticky. Scrape the sticky fondant onto a clean work surface and knead in the remaining 1/2 pound confectioners' sugar, a little at a time. Knead until the dough is pliable. Shape the fondant into a smooth ball. Cover with plastic wrap and place in an airtight container overnight.
Do not refrigerate.

White Chocolate Fondant Recipe
The fondant recipe above is made one step better with the addition of melted white chocolate. Or use the Marshmallow Fondant recipe on this website. 

9 ounces Ghirardelli or another high quality brand of white chocolate, finely chopped
1 ounce cocoa butter
7 tablespoons light corn syrup
1 pound rolled fondant, store bought or make your own from the recipe at the top. You can use the marshmallow as well.
Cornstarch, for dusting, if needed
Set a heatproof bowl over a pan of water; bring water just to a boil. Remove pan with bowl from heat. Put white chocolate and cocoa butter in the bowl; stir just until melted. Remove bowl from pan; stir in corn syrup. Pour mixture onto a sheet of plastic wrap; fold sides in to cover. Let stand at room temperature overnight. Knead the mixture to soften, then knead it into the pre made rolled fondant until it is well incorporated (if it sticks, sprinkle work surface with cornstarch). Wrap in plastic; let rest overnight.

Before using, microwave fondant on medium power for 5-second intervals until pliable.


This article was printed from Wedding-Cakes-For-You.com