Frog Cake
by B. Sweet Cakery - Bianca Blanco
(Pasadena, CA)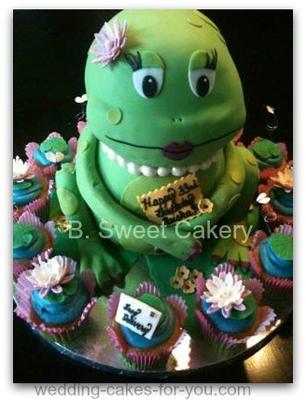 F.R.O.G all put togther!
So this frog cake is definitely one of my favorites. It was done for a client who has gone through a couple years of major struggle. She has always had an affinity for frogs because for her it stands for "forever rely on God." So in her renewed strength an optimistic look on life she decided it would only be fitting to have a F.R.O.G. cake to celebrate her 33rd birthday!


I accepted the challenge but with some inside hesitation. I wasn't satisfied with giving her a frog laying down or a cake with a frog on it. It needed to be a frog! But I stacked and carved until I came up with the right shape and was so happy with how it came out. I also thought it only proper to make her cute and girly. After covering her with fondant I added lips and eyelashes and a manicure and pedicure to top it off.
p.s. I carved the head and body separately and when I stacked them there was a bit of a strange gap. Sooooooo - pearl necklace!!!!
(To get real looking pearls
make fondant balls all the same size. Then in a plastic baggie add super pearl pearl dust and the fondant balls. Give it a shake and you've got pearls!)
Flies
- In order to create the scene I put a dozen cupcakes around her. She requested flies be on the cake too. I thought it would look a little gross if they were sitting on the cake if they were mistaken for real flies! So I went into my flower making box and got some thin wire and bent the wire into curly and zig zag and funky ways and put a little fondant fly at the end. It worked perfectly and gave the impression of a buzzing fly! Stuck these around her in some of the cupcakes.
For the lily pads
- I cut circles out of thinly rolled fondant. Cut out a V shape. Then with the flower veining tool made the lines in the lily pad. Then with the ball tool ruffled the edges a bit. Gorgeous!
The Cake!
- This cake is one of my most requested and now my signature cake. It's called "French Toast." It is a cinnamon cake. The buttercream is cinnamon, maple, almond, with a hint of orange essence. YUM!
If you look close on one of the cupcakes I made an envelope that says frog delivery. I think it's the best and most satisfying for someone to find little details as they are looking at their cake :)