A Glam Farm Cake
by Kimmy NZ
(New Zealand.)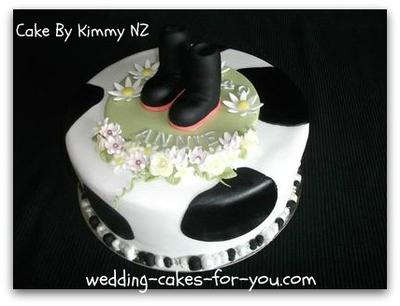 A Little Bit Of Farm Glam
This glamorous farm cake was made for a 40th Birthday. They asked me for a cow hide fondant with (gumboots, galoshes or willies) depending what country you come from. All I knew was that the lady was a dairy farmer, her age and that was that.


Searching For The Perfect Design
I asked about colours and the answer was "Oh just black and white fur" I asked about flowers or bling or maybe some pearl but the answer was, "Well, she is just a farmer." Then I was told to look at the web as I would find loads of farm cakes to copy! No kidding, what ten year old wouldn't like a farm cake.
Then suddenly a light bulb went off and the lady said, "Oh, I saw some hay, can you do hay, that might be nice" My heart sank. In the end she said she always liked my cakes and she would leave it to me to come up with something.
Oh JOY! I had no idea what to do. I thought that I would take the bull by the horns (no pun intended) and go for a bit of pretty glamor. I didn't think for one minute she would be turning up to her party in blue cover all's and a pair of smelly boots.
The Decorating
A cake reflects the person who it's made for and I didn't what her to think that her family and friends didn't see her pretty, feminine side only the hard working farmer. So, I got to work on a county top with pretty flowers and a pearl base. I painted white fondant balls to look like pearl and added black balls and a few silver store bought ones. I made them different sizes so it was not so formal.
Happy Farmer Clients
I dropped the cake at 'lady farmer' friend's house and she was delighted. She said it was not what she had expected but she was really happy and said the birthday girl would be over the moon. I have to say I was very pleased too and I only hope that everyone at the party enjoyed it as much as I enjoyed designing it.
With a bit of luck it will make her feel so good she will be calving next week, wearing a bit of lippy and a new spring in her step. After all - Life begins at 40, right girls!
A few other amazing cakes by Kimmy on this website:
A Pony Cake
A Gladiola Fondant Flowers Design
A Penguin Wedding Cake Entry