Penguin Wedding Cake
by Kimmy
(New Zealand.)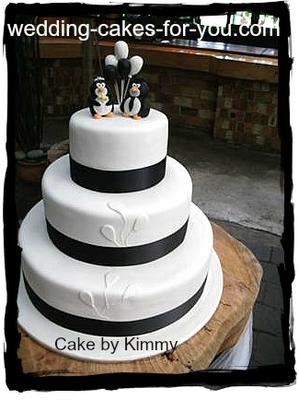 Penguin Wedding Cake
Hi Lorelie,


I guess this penguin wedding cake was a lesson in trusting a brides dream and the wonderful ideas my niece had to include her guests in every part of her special day.
I was asked to make the wedding cake 9 months before by my sister-in-law. We looked at a few traditional flower ideas in black and white but then the bride got in touch and everything changed.
She wanted a 3 tier white cake, black ribbon, penguin bride and groom (holding yellow flowers) and balloons floating around the sides of the cake.
I was not sure how to put this all together. I was so worried that it would look like a child's birthday cake if I was not careful. I just didn't get the concept and felt a little worried that I was not going to achieve what she had imagined in her head.
The cake was all chocolate with chocolate flavoured frosting. I made a 14'10'6' cake. I baked and froze all the layers - 3 layer bottom, 3 layer middle and 2 layer top. I then put it all together the day before the wedding but this did not go as well as expected.
I started making LOTS of balloons for the floating balloons around the sides in fondant and made some royal icing for the knot and string. I didn't see my creation as I was very close to the cake. Suddenly my husband told me to stop and look at the cake.
I walked away and in horror, could see why he was stopping me. I almost cried – it looked more like a fertility cake not a wedding cake and
I didn't know if I could fix it. I don't want to be rude but I hope you understand what I was seeing.
Thank goodness I had fixed the balloons with vodka and they all cracked off. The royal icing was also removed with little effort. It had marked the cake but I used a large lump of white fondant and rubbed the sides until I was happy with the surface.
I then finished off with two simple, 3 balloon bunches that looked like balloons and not anything unspeakable swimming around the cake.
At the wedding the cake design came into its own and I understood the simple design and my niece's vision. The guests had been given yellow flowers and the bride gathered these as she walked to her future husband, kissing and hugging her friends and family along the way.
It was lovely seeing her bouquet grow. The penguins with yellow flowers made sense. After the ceremony all 100+ guests were given white balloons. We all walked into the middle of the vineyard and let go, (on the count of 3 by the photographer) it was fantastic.
The photo's amazing! I thought it was lovely that so much thought had gone into the story the cake told rather than it just matching the colours of the wedding. The bride was very clever and I think a lot of guest recognized this in the cake which was nice to hear.
Kimmy, Thank you for a lovely story and the photo of this beautiful cake. I actually made a penguin wedding cake for our wedding 27 years ago. But mine was not nearly as beautiful as this one. Thanks for sharing.