Alice in Wonderland Cake
by Jacqueline M.
(Birmingham, AL)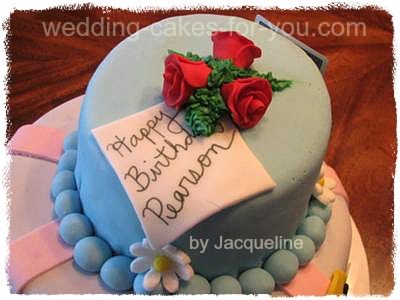 A Very Merry Unbirthday to You!
This is an Alice and Wonderland cake that I made for a 6 year old's birthday.


INSPIRATION
Inspiration was easy here! With Alice and Wonderland being a childhood favorite- inspiration was all around me. I wanted to incorporate the Chester Cat, painting the roses red, cards, the eat me message, and the wonderful pastel colors from the movie that are so friendly for a 6 year old birthday cake.
I decided to make it a topsy turvy cake with the bottom tier being the Chester cat face, the top looking like the candy that Alice ate in the beginning of the movie that made her grow and shrink, and then added decorative features from the movie like daisy's, roses, cards, etc.
CAKE DECORATING TECHNIQUES
The first thing that I did in terms of decorating was to start making the daisies and Chester Cat face when the cakes were in the oven. This allows them to be ready when it's time to decorate the cake, literally saving you an hour!
I made the daisies by using a Wilton flower cutout and putting them in the Wilton shape bowls. I then put a small ball of yellow fondant in the middle of each flower. Once hardened, these flowers will have the perfect shape.
I then rolled out handful of fondant and by using a fondant cutter cut out the Chester Cat's mouth. Set aside. After hardened take a Food Writer black marker and draw on the teeth. I then rolled out a small piece of yellow fondant, black fondant, and dark purple fondant.
Take a medium sized circle cutout and make the large yellow eyes. Use the small circle cutout and make the black pupils. Put the black pupils on the yellow eyes. Set aside.
Take a small piece of the purple fondant and make the nose. After hardened a bit take the black Food Writer marker and draw on the nostrils.
Once you cover the bottom tier with light purple fondant, use everything you made and decorate away! On the top tier, roll red pieces of fondant to make the roses. Cut out a square piece of fondant for the happy birthday note and set in a large Wilton Shape bowl. Let sit. After formed, then write the birthday message with the black food writer.
RECIPE
This cake was strawberry with an amazing chuncky white chocolate icing.
INGREDIENTS:
6 ounces white chocolate, chopped
1/4 cup whipping cream
1 cup butter, cut in pieces
1 cup powdered sugar
PREPARATION:
Microwave white chocolate and cream in medium bowl on high for 1 1/2 minutes until chocolate is almost melted, stirring halfway through heating time. Stir until white chocolate is completely melted. Cool to room temperature. Beat butter and sugar gradually into cooled mixture on high speed until light and fluffy.
ACCOMPLISHMENT
I cannot tell you how it felt when I finished this cake. I couldn't stop going over to the box and opening it up so I could look at it. I must have taken a thousand pictures. I felt like a photographer photographing a beautiful women:
Work it! Growl like a tiger! ha ha.
I honestly feel like I created a priceless piece of art. When I dropped the cake off the mother of the 6 year old started crying. She said that it exceeded all her expectations. It was a proud moment.
Wow Jaqueline! You should be proud because your Alice in Wonderland cake is fantastic! Your story is wonderful and the instructions and recipe is an added plus to your entry. Thank you so much for entering and taking the time to write up a great page here.