Vintage Car Wedding Cake
by Helen Hermanstein
(London)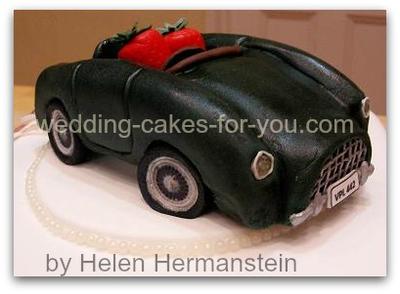 I had a very unusual request to make and decorate a fruit wedding cake. The happy couple have been together for some time and had decided to 'tie the knot' after many years together.


They had both been previously married to other partners, so were just having a small gathering to help them celebrate their special day. They wanted to have a wedding cake with a theme that represented their lives together.
The groom has been a collector of British vintage cars for some years now and has also, with his partner, owned a strawberry farm in South East England, where they produce strawberries that are actually served at Wimbledon every year.
My wedding cake design therefore had to incorporate a vintage car and strawberries! The result was a very rich fruit cake covered in fondant icing with a replica of an AC ACE racing car mounted on the top (on a royal icing plaque) being driven by two happy strawberries! I even managed to make replica tyres and put on their car's number plate.
The car was complete with trailing bottles, beer cans, shoes and boots at the back. The 4 corners of the car were decorated with the same flowers as the bride's bouquet: peach and yellow coloured roses - with the addition of strawberries!
Needless to say, the cake was much appreciated and went down a storm. I am just very happy to have made the happy couple's day a success.
I have to admit I had an absolute blast doing this cake - I just love the creativity in cake decorating.
Thanks Helen for a fantastic cake and story.
This is one awesome sculpted car cake!