A BEAUTIFUL CHRISTMAS CAKE,,,, ITS WATING FOR YOU!!!
by Maria Paula Duarte
(Joshua Tree, California, United States)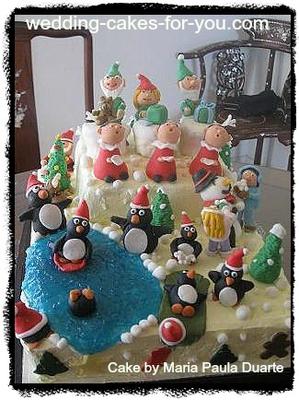 My secret ingredient:


Love and fondant
My tip:
Patience
My inspiration:
The holidays
The time we spend with our loved ones during the holidays inspired me to make a unique Christmas cake. I have always made many cakes, but never one quite like this. I looked at recipes online for help.
With my imagination and the help of the internet I did something never before seen, I made a special unique cake that was the hit of the party
All of the fondant figurines on my cake were made with a lot of love, patience, and imagination. They all are a vital part of my Christmas cake. All those nights thinking of what to do on my holiday cake was worth it after seeing what I have accomplished.
Every part of this cake has a must see holiday detail, like Santa Claus with his milk and cookies, the little children making a snowman, the penguins playing in the snow, in the big Christmas hat, sunbathing and under the water.
Santa's helpers are working on the Christmas gifts, and finally the snowflakes that Lorelie showed me how to make on her YouTube tutorial.
The cake flavor was a white cake with a chocolate filling and the frosting was from this website. The recipe is called
"best wedding frosting"
and it is the best!!
This is the first time I made a big cake and the first time I worked with fondant.. i think it came out really good:) I'm proud.. I used a lot of Christmas colors for the fondant and also made the water with blue piping gel... But the most important ingredient - love and more love:)
Thank you and do not forget to watch my video!....
Let me know if you like it:)