A Pink Wedding Cake
by Brianne
(Barron, Wisconsin, USA)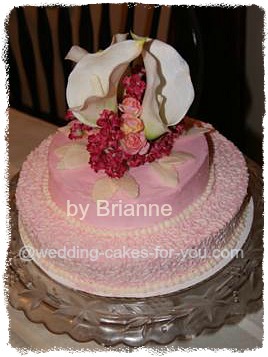 For a very pink wedding!
I made this pink wedding cake for my brother-in-law's fiance who was very indecisive in what she wanted for a cake! I gave her a couple pictures and she told me to choose one!


The only thing she said was, "Just keep it simple." So I decided to design my own, because I didn't know what to pick!
I started with two round sour cream chocolate cakes, stacked. Then layered with pink. White frosting for details! Simple, like the bride wanted!
White Chocolate Leaves
What I did enjoy learning, is how to use melting chocolates as "paint" on mint leaves, let harden, and then peal off to get the veins imprinted on the chocolate. I then added a little "shimmer" to the chocolate leaves and set them around the top layer which was decorated with flowers to match the bouquet on my pink wedding cake.