Fairy Cake
by Ericka Filipiak
(Milton IN USA)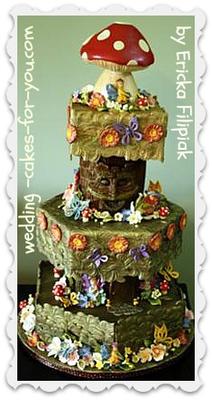 Woodland Fairy /Sprite Wedding Cake
The Fairy Cake Inspiration
This was a fairy cake designed for a bride with a medieval flair, not the knights and ladies, but more the woodland theme.
Cake Sizes
The cake pan sizes for this were a 14" hexagon, 8" round, 11" hexagon, double tiered 6" round, 10" square and a cereal treat hand shaped mushroom top.
Wedding Cake Decorations
All decorations for this fairy cake are edible. The leaf pattern was done with a fondant lace mold #316 from
CalJava
and dusted with 5 different colors of green/brown/gold luster dusts.
The Tiers
The tree tiers are covered in chocolate fondant and just scored with a fork. The tree face was added and tweaked with a fork until it looked right. The fairies were made of marzipan and used in molds from
First Impressions.
They were hand painted with luster dust. The cake is all covered in fondant icing and the flowers were all gumpaste.
Thanks for looking at my Fairy Cake! Some of the details of this fairy cake can be seen in the second photo
Incredible fairy cake!
by: Leigh Ann
I think this is the coolest cake I've ever seen. I spend an awful lot of time (some might argue TOO MUCH time) watching cake shows on television. This cake far outshines any cake I've ever seen those people make.
Comments
Thanks for Entering your Fairy cake
by: Lorelie
Ericka, Thank you for entering the second cake decorating contest at Wedding Cakes For You. Your cake is very cool. I love the woodland/fairy theme. It's very unique and nicely done and thanks for the helpful information to go along with it.
Good luck! I hope you get lots of commentary and ratings too! If you have any close ups you can send them to me via email or just use the form to upload one. It would be great to see the details.
Lorelie
More Comments
Stealing this!
by: Anonymous
I want this for my wedding. I love the green man fabulous
by: Anonymous
wow this is amazing, you are a very talented artist. So inspiring.
thanks for giving me a look at what true talent can create.
Darlene
WOW!!!
by: Anonymous
This fairy design is incredible!!!!! This is better than 90% of the ones I see on the Food Network TV food shows.
Cool
by: Anonymous
Wow it looks like you spent lots of time on it. Its cool I hope I could make one like this someday.