Flower Pot Cake
by Kimmy NZ
(New Zealand.)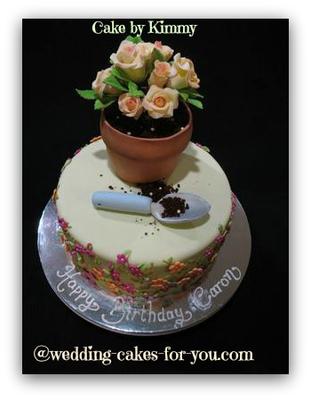 Birthday Roses
This flower pot cake cake was for a ladies Birthday who had a love of gardening with her Roses being a favourite.


The cake and the flower pot were made of chocolate cake. I had to carve the pot, so I saved all the cake to crumble and make soil. I added
white, candy pearls
to the soil to look like the real potting soil we get from a garden centre.
I dusted the pot with
brown and orange petal dust
until it looked a little dirty. I started the roses weeks before and wired them into a bunch. I used a plastic straw pushed into the cake and then pushed the roses into it.
I also made the
fondant flowers
and buds in advance. These where attached with green royal icing and I finished with some extra
royal icing
around the flowers.
To make the little garden spade, I shaped it onto a serving spoon, leaving a thick part at the neck with a point. When it was dry, I then made the handle and pushed the point into it.
The cake was a lot of work and a photo doesn't do it justice really. It was a really nice little cake to make.
Lorelie's Response
Kimmy, I am sure your gardening client was thrilled with her VERY special confection. The roses are superb and the tools and pot look completely realistic.
Amazing!!! Great tips here. I love the flower pot idea. The little pearls in the dirt would really add to it looking very true to life. I love the details that you create with your designs. From the spade to the roses you have done a fantastic job here. The little flowers on the side are sweet too. Are they made of gumpaste? or fondant?
Here is a link to the
luster dust
and all of the colors to choose from at Candyland Crafts.
More of Kimmy's Designs
18th birthday cake
Have you ever wanted to make a Gladiola out of gumpaste? Check out Kimmy's
Gumpaste Gladiolas