Another Hello Kitty Cake
by Athalia Lyons (Psych Out Cakes)
(Orlando, FL)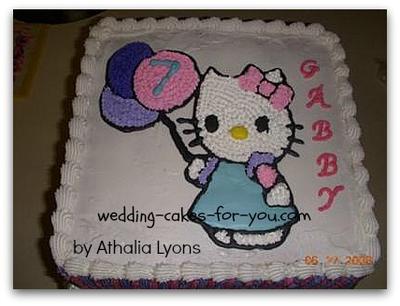 I made this Hello Kitty cake for a daughter of my friends. She was turning 7 a couple years ago and loved Hello Kitty. I was new to cake decorating at the time and used butter cream icing and royal icing to complete the cake. I also used a template that I found online and traced it onto the cake using the transfer method I learned from a Wilton Method class.


At the time when I made this cake, in 2009 I was very proud of it, and the little girl I made it for loved it so much that I have made all her birthday cakes each year since then. Now looking back I see the imperfections about it....but it was a fun cake to make!
Athalia, Your Hello Kitty Cake is adorable. Thank you for your contribution to the cake decorating pictures page. It looks like you did a royal icing run out for the dress? I remember doing the star tip fill in buttercream cakes. Actually here is a lion cake that I made using that same method and from the Wilton Book for my sons 4th birthday 25 years ago. Would love to see some of your recent cakes too. Feel free to add them at any time or join in at the Cake Decorating Contest and sharing anytime. They are on going and you can win prizes. Thank you very much :-)
Return to Cake Decorating Contest 1.
This article was printed from Wedding-Cakes-For-You.com