Guys Night Around the Poker Table
by Jennifer Eidson
(Houston, Texas)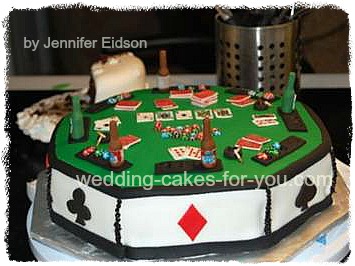 A night of poker




I started making cakes when I was a kid. Of course, they were out of the box with store bought frosting, but I always tried to personalize them for each person's birthday.

I've always considered myself an artist. I went to school for graphic design, while working at a scrapbook store. I had to take a break from school, and decided to take Wilton cake decorating classes to keep myself doing something new.

That is when my passion for cake decorating was renewed and after taking the fondant class, I decided to see where my artistic talent could take the fondant.

My brother-in-law is a huge fan of poker, and since it was his birthday, I decided to make him a poker table. I discovered the food color markers and thought they were the greatest thing ever. I got to work on the details. I cut out lots of little circles to make poker chips and colored them in the usual chip colors.

Then it was time to draw the cards. It took some time, but I set up the hands that I wanted to display on the cake and just started copying them. To make it even more personalized for him I added the beer bottles and cigarettes.

As I added each detail, I was amazed at how something you can eat could look so cool. He loved the cake so much he said we couldn't eat it. I told him that it's cake you have too eat it. He did make a compromise with me. He had me cut off the top of the cake and he has kept it in his freezer for the past 3 years.

I've made a lot of cakes since then, but the poker table cake was the cake that brought it all together for me.