A Fondant Cake For Animal and Art Lovers
by Marcy
(Blasdell, NY)
This three tiered fondant cake is covered in rolled fondant. All the decorations and the dog and cat are hand sculpted in fondant as well.


How I did it
I used some gumpaste tools and a downward motion to get the look of the fur. Once they were semi dry I airbrushed them with a bit of black and then hand painted the eyes and noses with a small artists brush. The palette and brush were just sculpted by hand and hand painted with paste coloring thinned with water. I put the berets on each after they dried for a few days. I went back in with some brown color and hand painted some highlights on the dog.
The framed pictures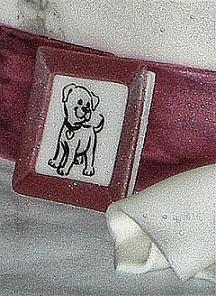 The pictures were made by cutting out squares of white fondant with a square cookie cutter. I let them dry for a few days before stamping. I bought animal themed cute stamps at the craft store and brushed black paste food coloring on the design. I then stamped it onto the fondant and let it dry. It will take quite a while for it to dry. I made these a few weeks in advance.
The frames are made by cutting with a square cookie cutter and using a smaller one to cut out the center. I place water on the back of the frames then 'glued' it to the picture. I used a flat spatula to make the indents on the corners of the frame. I them gently brushed
luster dust
on the frames and put some on the pictures. I did not brush it on the pictures or it might have smeared the stamps. I just used a soft paintbrush and 'flicked' some on with my thumb.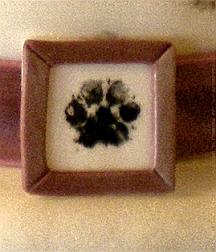 Stripe and drapes
The burgundy stripe on the bottoms of each layer are just colored burgundy fondant cut with a small roller that has different pieces that you can adjust the measurements with. The draped fabric is fondant rolled thin and folded back and forth as if you were folding paper to make a fan. I then carefully laid it on the cake and just let it almost do its own thing. If I played with it to much the fondant started to tear.
Silver paw prints
It might be hard to see but there are paw prints on the cakes in silver. For this I used the paw print stamp I purchased at the craft store and painted the silver luster dust thinned with water on the stamp. I then randomly stamped the cake but did not want to many on there. Just enough to accent the cake. The picture on the top of the cake is held up by a few toothpicks in the back. It is tough to see in the picture but I used a cat stamp, a dog and a paw print. Please enjoy.