49th Wedding Anniversary Cake
by Sherrie Jones
(District Heights, MD)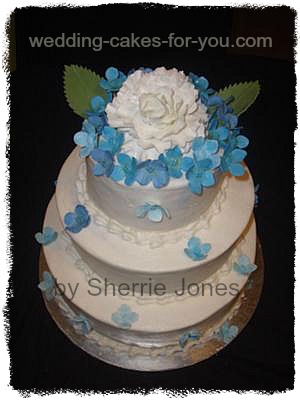 My parent's 49th wedding anniversary was coming up and I decided to have a dinner in their honor. Since I am an amateur cake baker I knew that I would bake their favorite cake for the event, Coconut Pineapple.


It came to me one morning that I should try and make a tiered wedding cake instead, especially since I've always been afraid to try the tiered cake thing.
I then proceeded to do research on-line and came across the
"Wedding Cakes for You"
website. The more I read and re-read how to make a wedding cake on this site, the more confident I felt that I could do it. So I set my plan in motion.
The bottom and top tiers were vanilla and the middle tier was marble. I have been playing with making gum paste flowers for a while and kept at it until I was satisfied with their look.
My Mom cam by one day while I was making the Hydrangeas and I told her I was practicing how to make them. She was actually giving me pointers on graduating the colors of the flowers, which I thought was a great idea. She didn't know that they were for her surprise wedding cake!
My parents were totally surprise because they never had a wedding cake. They got married at the Justice of the Peace and went home and had dinner with family and friends. My Mom said "it took me 49 years to get a wedding cake but I finally got one".
I never thought I could make an actual wedding cake until I found this site. The baking tips, recipes, decorating ideas and the video were invaluable in my quest to give my parents what they did not have when they first got married.
Thank you for making it possible for me to surprise my parents with a wedding cake!
Sherrie, You made a beautiful anniversary cake for your parents. Your story is wonderful thank you so much for entering the cake decorating contest and I am so happy that this the information from my site helped you out.