Valentines Day Cake
by Kristi De Seve
(Satellite Beach, FL)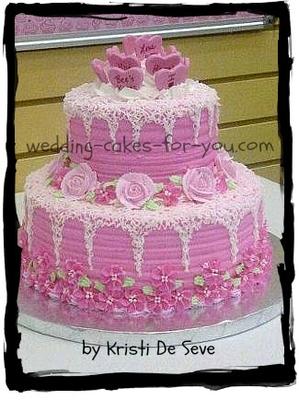 Hearts and Flowers
My Valentines Day Cake inspiration was my mom. My mom could not boil pasta correctly, but she could sure bake a cake. One of the prettiest cakes I remember her making was a heart-shaped cake with pink frosting and fresh strawberries lining the heart. Pretty, and pretty tasty!


Cake Decorating Class
So, I had a class coming up around Valentines Day for tiered cakes. I needed an idea for colors, and decorations. Unbelievably, it wasn't so obvious at first what my theme should be. Eventually, the ideas started to build. I decided pink, with hearts and roses - Valentines Day cake! It just hit me - LOL! I started drawing and this cake is nearly exact to what I drew out.
Tip #1 Planning
Which brings me to my very first helpful tip: PLANNING. Drawing out what you would like your cake to look like helps you determine everything from the colors you will use, number of flowers needed, to the amount of frosting you'll need.
You also may need tools or a certain amount of sugar. For instance, the night before class I found out I didn't have enough powdered sugar; and who feels like running to the store when you're covered in frosting?? I volunteered my son! Luckily, he accepted the mission, so I didn't have to self-destruct all over him...
Tip #2 A Baking Tip
The top tier is (2) 6" rounds of dark chocolate cake, and the bottom is (2) 10" rounds of french vanilla cake. The 10" rounds baked unevenly, so I had to torte (slicing the rounds in 1/2, giving you four layers, versus two) them, and build the height up with the extra frosting. Let me inject a second helpful tip: when baking your cakes, use a lower temperature like 325 or even 300. My 6" rounds were baked at 325 and came out PERFECT! I baked the 10" rounds at the same temperature and they were lop-sided. Next time I will try the larger pans at 300.

Helpful Tip #3 Make Extra Flowers

I made the roses out of pink tinted royal icing. Is it just me, or are royal icing roses easier to make? Make extra - helpful tip #3: you can store them after they have completely dried in an airtight container for months and use them for another project. I like that tip a lot! The same for the drop flowers. I needed 50 for this cake. Make extra!

Candy Hearts

I made the candy hearts out of a mix of gumpaste and fondant, using a small heart cutter. For the messages I used an edible marker. Since I was making this cake for my mother and her neighbors (she is a resident in a nursing facility) I looked up messages that they could relate to. One of the favorites I found, "Bee's Knees".

Tip #4 and #5 Decorating The Sides

One of my last worries was all of the pink frosting, pink hearts, pink roses, pink drop flowers...! First off, I am not that good at smoothing out the sides of butter cream frosting (I usually work with fondant cakes), so I used an icing sculpting tool (helpful tip #4) to get the look on the side of the cake. To tone down all the pink I looked through a cake decorating book for ideas (helpful tip #5) and found sotas lace (overlapping loops of frosting).

Helpful Tip #6

I used white butter cream with (helpful tip #6) about a 1/2 teaspoon of piping gel mixed in, and a number 2 piping tip. Smooth. All I had to do was squeeze the bag where I wanted the curly frosting to go, and the frosting and tip did most of the work. And, putting it all together was a breeze with my drawing nearby.

I really enjoyed making this cake for my mom. And I am STILL bouncing around the idea of starting my own business - it's only been 2 years since I started decorating cakes. But if it's your passion, you just gotta do it, right? Right!

You are so right Kristi! Great story with GREAT tips along the way and a BEAUTIFUL cake. Thank you for entering the contest.