Great illusion art on butter cream cake
by Sivasubramani
(Karur,Tamilnadu,India)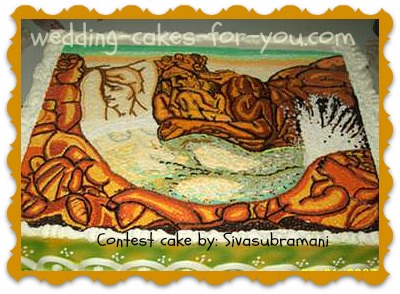 Art that live...
I'm a chef in a bakery shop.


fond of fine arts using cream.
I had created lot of fine arts thru years in cakes.
my work on fine arts started when i entered in decorating contest done by local companies.
But i loved to make illusion art.
when i started to work this cake i myself had only 50% confident.But when I marked the layout,outline....and my work gone thru, my confidence got strength.
learning:
Whatever the fine art maybe...
One can easily transfer the outline to cake by tracing it in a oil paper(butter paper)...
choosing the exact colour in painting will yield a best result.
it takes one full day work,with very few seconds interval for refreshing...
after finishing my thrust grows to make 3d illusion on cakes...
Siva.
Sivasubramani, Wow another amazing cake. This is very beautiful work. The fact that it is on a buttercream cake makes it even more amazing. Thank you for entering your "art" in the cake decorating contest. Good luck and please ask your friends and family to visit so they can rate and comment on your amazing cake.