Beach Theme Cake With Sculpted Beach Couple
by Linda
(California)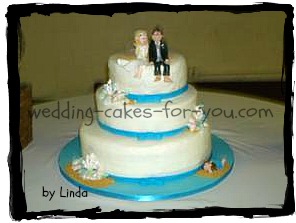 My Niece's Beach Theme Cake
I make cakes as a hobby, not a professional, mostly for my grandchildren for their birthdays. When my niece asked me to do her wedding cake I was of coarse honored, but honestly I was nervous. To make a cake for the most special day in any married couples lives, well it's big.
The ceremony was at the beach, but the reception was more inland, it was a 104 degree day, and the bride wanted buttercream. I used a shortening based buttercream that held up very well.....whew.
Three Tiered Wedding Cake Sizes
The base was 16", the next tier was 12" and the top was 8". It was strawberry filled confection iced with butter cream. I made the bride and groom and the flower girl on the bottom board from gumpaste.
White Chocolate Seashells
I made the seashells with a chocolate mold using white chocolate and brushed them with colored and pearl edible luster dust. The coral was made with royal icing piped onto parchment paper and allowed approximately 5 days to dry.
Fondant Ribbon Tip
The ribbon around each tier was fondant, and I discovered a pretty good trick. I didn't want to transport the cake with the ribbon on it, since it was buttercream, sometimes the fondant will slide. So I colored and rolled and cut my fondant at home, sprinkled it with cornstarch and rolled it (looked like a roll of bubble gum tape) and transported it in a plastic container. When it was set up I only needed to roll the tape straight onto the cake, it worked great!